« Too F'n Awesome: CNN Has Its Own Spin to Explain Elections
|
Main
|
NJ Update: CNN Exits Show Big Lead for Christie Among Independents

November 03, 2009
DrewM. On the Scene at Hoffman HQ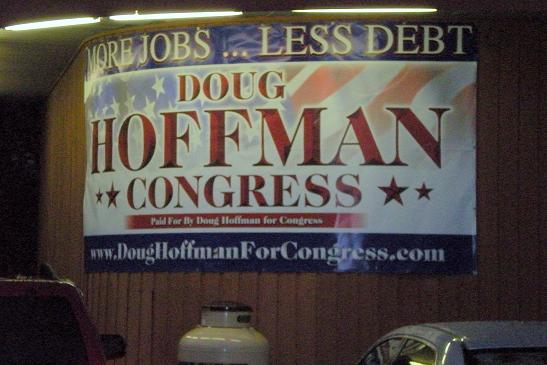 Pulling up the headquarters. Pick by DrewM.
DrewM. At the Hotel: Not his hotel, the hotel where the campaign staff has moved to await the vote tallies -- and hopefully the concession speech of Owens.

Exit Polls! More casting votes to oppose Obama than for him (barely); most important issues in NJ seems to favor Republicans (economy, taxes, corruption; health care comes in fourth. Update at Allah.
Meantime, Drew just sent me a new vid.
New Vids: Hoffman on the Tea-Party Movement.

DrewM really went beyond the call of duty to smuggle himself into Hoffman's headquarters.
He has no updates yet, but I'll let you know when he does.

Update: Drew spoke to Rob Ryan, who identifies himself as the press guy for the campaign. Turnout is strong in the areas they want it to be, down by Syracuse and other blue collar areas. After work, it has been picking up, and it had already been solid.
Putting a lot of faith in independents, based on polls.
The mood is upbeat, but still determined and businesslike. They are not acting as if this is in the bag, nor telegraphing confidence that they have this in the bag.
Getting a lot of calls from around the country from conservative activists who have supported him. One guy in Pennsylvania promises he'll be putting up a billboard hailing the defeat of the socialist in New York. One guy drove in from Vermont and has been working the phones all day.
I always liked when reporters would report the mood of a headquarters, usually in a wink-wink way of revealing what the embargoed exit poll data said. I pressed Drew to tell me the Hoffman camp was "confident" but he preferred upbeat, determined, and businesslike. Drat. I wanted that "confident" quote.
The Candidate Enters: The previous vid from Drew.
And Hoffman speaks to the press:

posted by Ace at
07:12 PM
|
Access Comments