« Americans Still Cooling on Global Warming
|
Main
|
Good News, Lord Monckton »
October 23, 2009
Overnight Open Thread - TGIF Edition (Mætenloch)
TGIF all. So let's start the weekend off with a bang. A 20 kiloton bang that is.
Say Hello to my Little Friend, the Davy Crockett
What do you do when an atomic cannon is a little unwieldy? Well that's when you pull out the M-388 'Davy Crockett' atomic rifle.
It had selectable yield of 10-20 kilotons, weighed just 76lbs, and a range of only about 2 miles. And that actually was the main problem with it: the firing range was barely more than the lethal blast range, and the firers were pretty much guaranteed to be hit with fallout. So it was pretty much a desperation weapon. Still a total of 2100 were built and deployed with US Army forces from 1961 to 1971.
Note: There seems to be nomenclature dispute about the Davy Crockett - the video refers to it as the M65, but Wikipedia and most other sites refer to it as the M-388.
Nuclear Factoid: States with the largest number of nuclear weapons (in 1999): New Mexico (2,450), Georgia (2,000), Washington (1,685), Nevada (1,350), and North Dakota (1,140). So in the event of secession, choose wisely.
The 1965 Ikea Catalog
Someone scanned in a copy of their parents' 1965 Ikea catalog. Amazingly it still looks pretty contemporary 44 years later even down to the graphics. The Ikea catalog has been published since 1951 and has now surpassed the Bible as the most published work.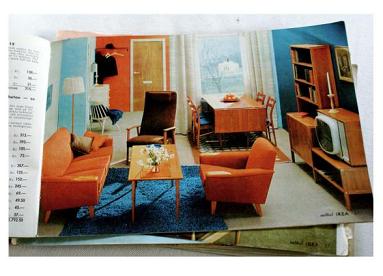 Also 5 Things You Didn't Know About IKEA
Cleveland Hobo Dance With Tube Steaks!
Sadly I can't believe we missed this year's event, but the single morons can always try and make it in 2010.
For the moronettes: The Men of Australian Cricket
What Octomom Is Up To Nowadays
I sure hope that's one of those mythical Palin pregnancy suits.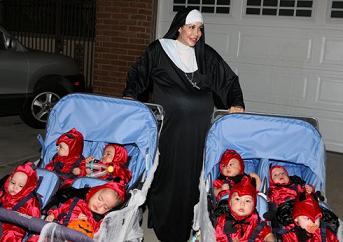 Tonight's post brought to you by action jeans and hidden gussets:

Notice: Posted by permission of AceCorp LLC. Please e-mail overnight open thread tips to maetenloch at gmail. Otherwise send tips to Ace.

posted by xgenghisx at
10:10 PM
|
Access Comments