« ABCNews Backs Up Gibson: "We're Not in the Business of Noise"
|
Main
|
Did ROE in A-Stan lead to Marine deaths? »
September 16, 2009
Maxine Waters: Hey, You Know Who The Media Should Investigate? Ordinary Citizens "Teabaggers" Exercising Their Free Speech Rights to Protest Obama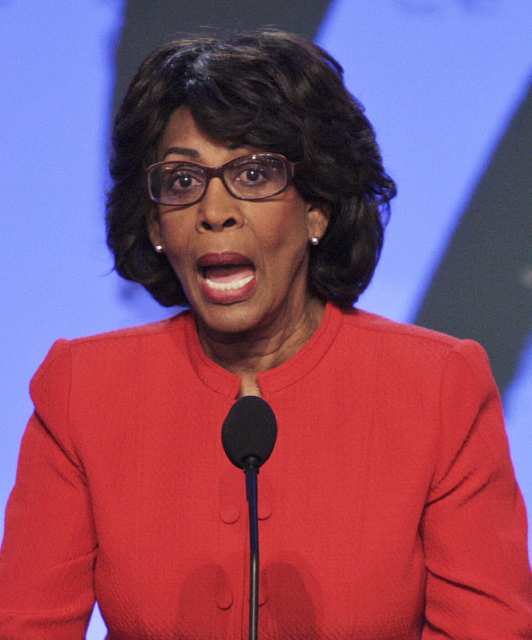 Via Dealbreaker, which asks how, precisely,
this grizzled old vulture ended up in the
top five of DC's hottest people [via hc]
Bring the full power of the media to bear against citizens who won't get with the new Five Year Plan.
"Vet" ordinary citizens -- I mean "teabaggers," as Maxine "Cleveland Steamer" Waters calls them -- like they "vetted" Joe the Plumber for asking a question. (But not Van Jones, a czar controlling $80 billion of the public fisc.)
Sounds kinda anti-American, but what do I know. Until the House bravely expressed its disapproval of Joe Wilson, I was like three minutes away from forming my own Race-War skinhead heavy-metal band.
I'm going to call it "Aryan Tygers."
Aryan, to let people know I am a strong warrior for my race and vigilant defender of my blood.
Tygers, to let people know I have a sense of whimsy.
The media should investigate the racial views of conservative activists like the ones who descended on Washington last weekend, one liberal congresswoman said Wednesday.

Rep. Maxine Waters (D-Calif.) said that it's not enough for African-Americans to levy allegations of racism against the right-leaning protesters, and that the media must look into their views.

"I want those people talked to; I want them interviewed," Waters told the liberal Bill Press Radio show in a podcast. "I want journalists to be all over those rallies and the marches with the birthers and the teabaggers."
The media has been doing this -- that hidden-camera attempt to elicit racist statements from NASCAR fans comes to mind. And they will be doing more of it.
Meanwhile, speaking of investigations, you know who the House Ethics Committee thinks needs investigating? Maxine "Donkey Punch" Waters.
The ethics committee did not indicate what allegations it is examining involving Waters, but a series of news reports earlier this year questioned the California lawmaker's role in the decision to provide $12 million in federal bailout funds to OneUnited Bank, where her husband, Sidney Williams, had served on the board and owned a minimum of $500,000 in stock in 2007.

...

As reported in March by the Los Angeles Times, the California lawmaker, a senior member of the Financial Services Committee, arranged a September 2008 meeting between OneUnited Bank's chief executive, other financial institutions and Treasury Department officials.

The newspaper quoted a former Treasury official who attended the meeting as saying that it was intended to focus broadly on problems facing minority-owned banks, but instead focused primarily on OneUnited Bank.
Also being investigated: Jesse Jackson Jr., for his role as "Candidate Number Five" in the Blago Pay-for-Play scandal, and Republican Missouri Rep. Sam Graves, who....
invited his friend and neighbor Brooks Hurst to testify before a Congressional hearing on renewable fuels, without mentioning that his wife and Hurst are investors together in renewable fuels plants in Missouri.