« Heh...Head Organizer Of California ACORN, We Were Just Messing With That Fake Pimp And Ho
|
Main
|
Top Headline Comments 09-16-09 »
September 15, 2009
Happy Independence Day To Honduras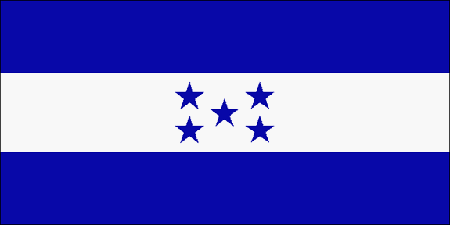 188 years and they are still fighting for it.
Sadly, the US isn't so keen on their commitment to democracy and was much cooler to Honduras than to other nations in the region also celebrating their independence today.
In an effort to the job America's President and Secretary of State won't do, join me in congratulating the people of Honduras and wish them well in their continuing struggle for freedom.
From the CIA World Factbook.
Once part of Spain's vast empire in the New World, Honduras became an independent nation in 1821. After two and a half decades of mostly military rule, a freely elected civilian government came to power in 1982. During the 1980s, Honduras proved a haven for anti-Sandinista contras fighting the Marxist Nicaraguan Government and an ally to Salvadoran Government forces fighting leftist guerrillas
Honduras has been a friend to this country. It's to our lasting shame we aren't returning the favor.
Below the fold, the Honduran National Anthem.

posted by DrewM. at
11:22 PM
|
Access Comments