« Super-Genius President and "Ultimate Man" Still Reading the Same Book He Supposedly Read Last Year
|
Main
|
Actual Deficit? Nine Trillion? Nope. Try $14.4 Trillion. »
August 26, 2009
Gallup: New High for Disaproval, New Low for Net Approval
Dum-Dum just asked if I was running out of polls. Well no, as it turns out. Thanks for the tip, Dummy.
Yesterday or so I goofed on Gallup for boosting Obama by stating that he was still in the double-digits regarding net approval (approve minus disapprove). I wondered if they'd make hay out of that same artificial boundary now that he's fallen into single-digit net approval, or if they would instead start saying "Obama retains a net approval exceeding the 'Lucky 7' cushion."
Well, he's actually at net-seven now, as it turns out. Approve 51%, disapprove 44%.
With adults, I remind everyone.
Rasmussen's poll of likely voters has him at negative one again, 49-50.
The Obama Effect: Blanche Lincoln, a Democratic Senator in red-state Arkansas, is now trailing a couple of relative-unknowns in polls.
Not by a lot, but the rule generally is that if you're an incumbent at less than 50%, you're vulnerable, and if you're at 40%, as Lincoln is, you're in grave peril.

For some cowbell, here's Jennifer Connelly riding a toy pony in the movie Career Opportunities. No one saw it and no one remembers it, but this image, from the commercial campaign, is seared, seared into my memory.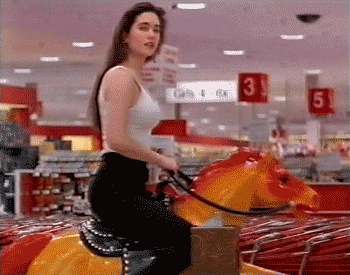 posted by Ace at
02:25 PM
|
Access Comments