« Gallup: New High for Disaproval, New Low for Net Approval
|
Main
|
Big Rumor: Leon Panetta Resigns from CIA?
Nope: CIA Spokesman Denies »
August 26, 2009
Actual Deficit? Nine Trillion? Nope. Try $14.4 Trillion.
Over ten years. Hey, that's just 1.44 trillion per year. Practically chump change.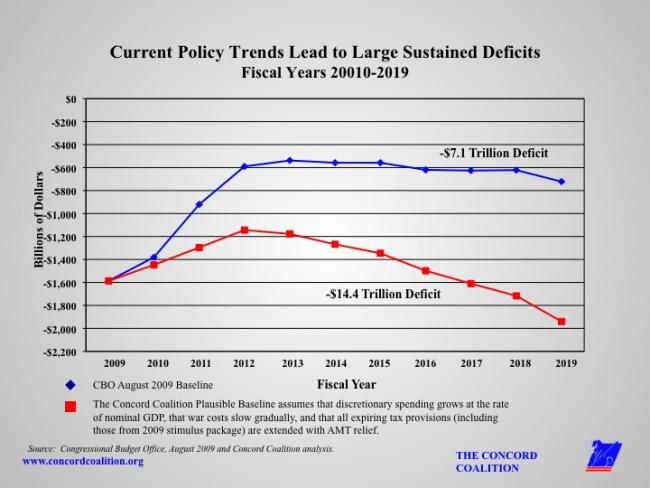 Chart found at Greg Mankiw
Just so you know, the CBO's baseline projections are based -- due to the law and rules of how they do these things -- only on actual law. So, for example, the CBO does not factor the costs of partially extending the expiring Bush tax cuts -- at least to the poor and middle class, as Obama has promised -- into its figures. Nor Congress passing a one- or two- year duration adjustment to the tax code to keep the Alternate Minimum Tax from hitting millions of middle-class taxpayers, which they do every time it comes up.
Such things make the CBO's projections implausible. To make more plausible projections, you have to take into account not just the law as it is but the law as it almost certainly will be.
With today's release of new budget projections from the Obama administration showing deficits totaling more than $9 trillion over the next 10 years, The Concord Coalition said that cost control must be the primary focus of health care reform and called for a bipartisan deficit reduction plan. Furthermore, the administration's numbers are optimistic when compared to what would occur if we simply extended current policy. The Concord Coalition Plausible Baseline, created using the Congressional Budget Office's (CBO) updated projections, shows that current policy would lead to $14.4 trillion in deficits over the next 10 years.

"You would have to be in a coma for these numbers not to be an effective wake-up call. The most disturbing thing is not the astronomical deficit this year or next, but the unacceptably high deficits that persist after the economy has presumably recovered in 2011 and beyond. It's time to come out of the partisan trenches and begin work on real solutions. Clearly, we have a serious structural problem that requires legislative action," said Concord Coalition Executive Director Robert L. Bixby.

The President's Office of Management and Budget (OMB) projects this year's budget deficit of $1.6 trillion will be followed by a deficit of $1.5 trillion in 2010 and then deficits will average $840 billion, or 4.5 percent of GDP, through 2019.

Concord's plausible baseline uses CBO's more pessimistic economic assumptions and assumes that the 2001 and 2003 tax cuts are extended with continued relief from the alternative minimum tax, that the temporary tax cuts enacted as part of the 2009 stimulus bill are also extended, that discretionary spending grows at the same rate as economic growth (GDP), and that spending on the wars in Iraq and Afghanistan slows gradually. It shows much larger deficits averaging $1.4 trillion from 2011-2019, or 8 percent of GDP.

Concord warned that sustained budget deficits of this size would be unprecedented in the United States and would increase our reliance on foreign lenders. By 2019, debt held by the public will reach 100 percent of GDP and added debt service would push the federal government's interest costs to a trillion dollars per year. At 5 percent of GDP, debt service will exceed projected spending on national defense or all other discretionary spending.
Their projection does not include Obama's health care debacle, though, and other super-spending initiatives.
So add those mighty logs on to this white-hot fire of fiscal ruination.

posted by Ace at
02:59 PM
|
Access Comments