« Man Married to Most Beautiful Woman In History of History Is Married to the Most Beautiful Woman In History of History, But Not Dead
|
Main
|
More Stuff About the Pedodent »
July 09, 2009
Obama Photo Of The Day, Part II
And the chumming around with murderous dictators continues.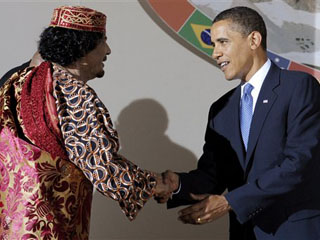 It was more handshake diplomacy by President Obama as he became the first US president to exchange a face-to-face greeting with Libyan leader Moammar Qadhafi.

As Chairman of the African Union, Qadhafi was invited to attend the G8 Summit Leaders dinner tonight in L'Aquila, Italy.

As the chiefs of state and heads of government gathered for a class photo, Qadhafi approached President Obama and they shook hands. It was a polite encounter, conducted according to protocol. Qadhafi smiled, Mr. Obama not so much.

Back in the 1980s, President Ronald Reagan would sooner have cut off his arm than shake hands with Qadhafi.
So, you know, that's awesome.
No word on if Qadhafi gave Obama a book.

posted by DrewM. at
06:33 PM
|
Access Comments