« Open Thread
|
Main
|
Obama Photo Of The Day, Part II »
July 09, 2009
Man Married to Most Beautiful Woman In History of History Is Married to the Most Beautiful Woman In History of History, But Not Dead
Hey, I don't know about G-8, but will you settle
for G six and a quarter?
He's even got "boner leg."
Via Drudge, thanks to AHFF Geoff.
The Other Side of the Issue:
Looks good from this angle too. But it's the rear view that gives Obama happypants.
Thanks to IreneFingIrene.
Incidentally, she's sixteen years old. Assuming she's Mayara on page 2 here.
President Short-Eyes probably shouldn't gawk at girls not even allowed to vote yet.
On the plus side, everyone with the "No" bet in the Gay Pool just cleaned up at 9 to 1 odds. That'll help the economy.
Thanks to Jenny.
Another Pic: This one of him checking out an adult woman.

He's got all the tact of a country-born wolf in a Tex Avery cartoon.
He eyes up ass like he's Indian Jones about to grab a golden Incan idol. I think he's got a half-filled sack of sand in the other hand.
The Rasmussen Passion index just went to +6 1/4.
He looks like a guy delivering a sausage pizza in a porno.
Larry Flynt just called. He wants his class and subtlety back.
He's staring at the ass like he's a Scanner with the unique power to psychically detonate the buttocks.
I don't get this one, but when a celebrity emails you, you use his joke.
Jedi Master Luke Skywalker writes:
G-8 SUMMIT = BEGGAR'S CANYON

YOUR UNDERAGE DAUGHTERS' ASSES = WOMP RATS
Thanks to Carol.
Classy: Obama's new, more accurate, faux presidential seal.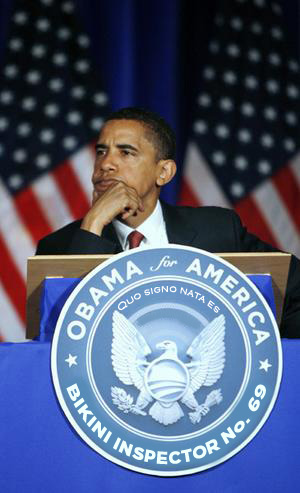 Thanks to Slublog for doing that. The Latin means "What's your sign?"

posted by Ace at
03:50 PM
|
Access Comments