« How Obama Got His Groove Back: President Declares Honduras Action "Illegal" Coup, Declares Chavez Thug Zelaya Still the Rightful President
|
Main
|
F%$k Off, Hosers! (The Post Where Russ from Winterset Declares War on Canada and Proposes a New National Holiday) »
June 29, 2009
Wimbledon Championships Are AoS Lifestyle(tm) Compliant...Center Court Scheduling Decisions Based On Looks In Women's Draw
Here's my thinking when it comes to women's sports...cheer for the American, unless the other chick is hotter. It seems that qualifies me to schedule center (centre for our UK friends) court matches at Wimbledon.
When it comes to choosing which women play on Centre Court, good looks count for more than big shots.

While a succession of easy-on-the-eye unknowns have appeared in Wimbledon's prime arena, the top women's seeds have been relegated to lesser courts.

...And last night, the All England Club admitted that physical attractiveness is taken into consideration.

Spokesman Johnny Perkins said: 'Good looks are a factor.'

..A BBC source said: 'It's the Wimbledon play committee, not us who decides on the order of play.

...'Our preference would always be a Brit or a babe as this always delivers high viewing figures.'
First of all, duh.
Second of all, I'm pretty sure the first rule of babe-centric scheduling is, "don't talk about babe-centric scheduling". This is the kind of thing everyone knows but the second you start talking about, it's over. Why the hell would Wimbledon admit this? Now there will be protests and they are going to have go the other way next year. Idiots.
The interesting thing is, attendance is down at matches with unranked hot babes. Either the jokes about Brits having teh ghey are true or they really are committed tennis fans. You decide.
Now if I were in charge, this is who I would schedule on Center Court, every day, all day. Even if she did get knocked out in the second round.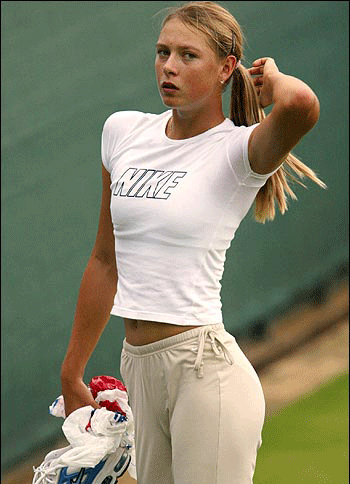 Ladies, if you want equal time, well send Laura or Gabe an email and see if they'll post some guy for you.
Guys, what else can I say...you're welcome.
Or... Simona Halep, before she gets breast reduction.

posted by DrewM. at
05:06 PM
|
Access Comments