« This Is Getting Good
|
Main
|
CIA Director Panetta: That Cheney Guy Seems To Be Jonesing For Americans To Die Or Something. McCain Defends...Cheney »
June 15, 2009
Iran: Mousavi Shows Up At Rally, Election Probe Ordered UPDATE: AP Says Militia Fires On Protesters At Least 1 Killed, Protesters Fight Back?
The government banned protests but that didn't stop thousands from turning out in Tehran. Mir Hossein Mousavi, the defeated candidate, made his first appearance since the protest began at the rally.
The demonstrators gathered in Tehran's Revolution Square, chanting pro-Mousavi slogans as riot police stood by.

"Mousavi we support you. We will die, but retrieve our votes," they shouted, many wearing the green of Mousavi's election campaign.

And Mr Mousavi eventually appeared, addressing the crowd from the roof of his car.

"The vote of the people is more important than Mousavi or any other person," he told his supporters.

Before Mr Mousavi arrived, Reuters reported that his supporters had scuffled with stick-wielding men on motorcycles - apparently supporters of the president.

Following two days of unrest, the interior ministry warned earlier on Monday that "any disrupter of public security would be dealt with according to the law".
Meanwhile, Supreme Leader Ayatollah Ali Khamenei has ordered an investigation into the allegations of election fraud. Gee, I wonder what that report is going to say?
Ayatollah Ali Khamenei ordered the powerful Guardian Council to examine the allegations by opposition leader Mir Hossein Mousavi, who claims widespread vote rigging and fraud in Friday's re-election of President Mahmoud Ahmadinejad, state television reported.

"Issues must be pursued through a legal channel," state TV quoted Mr. Khamenei as saying. The supreme leader said he has "insisted that the Guardian Council carefully probe this letter." The day after the election, Mr. Khamenei urged the nation to unite behind Mr. Ahmadinejad and called the result a "divine assessment."
Meanwhile, protesters are telling reporters they need Obama's support (just words, really) or they are doomed. Given the silence from D.C. I think they are going to have to get in a growing line of people who are coming to realize He doesn't always deliver.
MORE: Protest Photo From Iran via StopAhmadi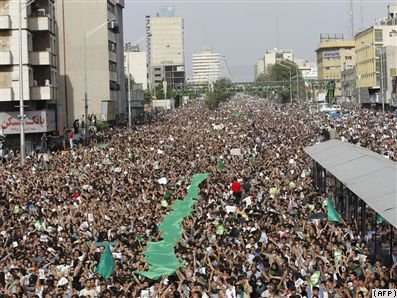 Protest size isn't the best way to determine a cause's level of popular support but that's a lot of people defying a government ban, especially given the level of violence the government has already been willing to employ. I think Ahmadinejad and Khamenei are going to need another plan.
UPDATE: Uh oh. They've started shooting.
Civil War? StopAhmadi says police killed 4 protesters and then protesters killed police.

posted by DrewM. at
10:19 AM
|
Access Comments