« Top Headline Comments 01-29-09
|
Main
|
Blago Mania...The Governor At His Impeachment Trial »
January 29, 2009
Some Like It Hot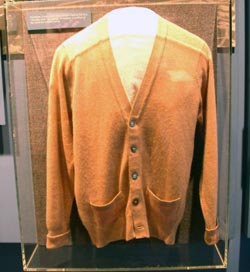 Hey...remember me?
Some, in this case, being President Obama. The noted advocate of sacrifice to protect the planet from the scourge of global warming simply can't be bothered to change his own habits.
The capital flew into a bit of a tizzy when, on his first full day in the White House, President Obama was photographed in the Oval Office without his suit jacket. There was, however, a logical explanation: Mr. Obama, who hates the cold, had cranked up the thermostat. "He's from Hawaii, O.K.?" said Mr. Obama's senior adviser, David Axelrod, who occupies the small but strategically located office next door to his boss. "He likes it warm. You could grow orchids in there.
As
Ed at Hot Air points out
, this is the same guy who told the rest of us that "we can't drive our SUVs and eat as much as we want and
keep our homes on 72 degrees at all times
..." during the campaign.
Predictably, the media isn't pointing out the obvious contrast between what Obama says and what Obama does. Sure, we pick on Carter for good reason, but at least he had the decency to wear a sweater.

posted by Slublog at
11:43 AM
|
Access Comments