« Heroine: Courtney Love Gives Portion of Nirvana Record Sales to Support Israel
|
Main
|
Dana Perino on MSM's/Liberals' (BIRM) Volte Face on Gitmo: All of a sudden, 'Gosh it's so complicated to close Guantanamo Bay" »
January 16, 2009
Shrieking Crybabies Calmed by Binky of Hope and Change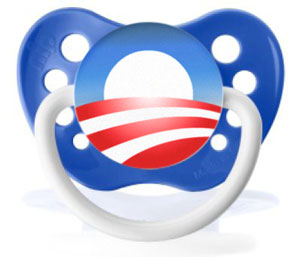 Europe loves us, so I guess life has meaning again.
As Micha Wyatt plans an inaugural bash at the Chicago Rib Shack in London, she is basking in the new warmth toward Americans overseas.

It's cool to be an American again, Wyatt said. "Finally! I'm tired of pretending I'm Canadian."

From Jakarta to Johannesburg, Americans who travel or live abroad are finding that instead of being scolded about the Iraq war, the military prison at Guantanamo Bay, Cuba, or U.S. climate change policy, they are being hugged when strangers hear their accent.

"People would question me: 'Where are the weapons of mass destruction? What is America doing?' " said Wyatt, 38, a San Francisco native who said she does not align herself with any party but comes from a Republican family.

Since Barack Obama's election, she said, people want to hang out at American parties and talk about the latest news from Washington: "There is a buzz about America now."
(H/t:
Hot Air
)
We've been putting up with this new situational patriotism since just after the election, and every new example of it simply highlights the increasing toddler-ization of the left. When they don't get what they want, they throw epic temper tantrums.
Over the last eight years, George W. Bush and conservatives have been chided for a lack of nuance. We've been told we lack sophistication for believing there is good and there is evil, and that some evil cannot be understood or appeased but must be eradicated. Those same enlightened ones, however, cannot seem to grasp what many of us neanderthal conservatives have figured out - our sense of national identity is not dependent upon a need to agree or even like our political leaders.
I am an American regardless of who the president is, and that president is my president whether I voted for him or not. America is not a perfect country but it is a good one, and it does not lose that essential character when the party I did not support takes control of the government.
Maybe it's because I'm one of those simple-minded conservatives, but I simply cannot comprehend allowing the feelings of people I do not know determine whether or not I acknowledge that I was born and raised in the greatest damn country in the world. And being the obviously mindless 'jingoist' that I am, might as well go all the way and quote Ronald Reagan, because his view of America is also mine:
"And how stands the city on this winter night? More prosperous, more secure, and happier than it was 8 years ago. But more than that: After 200 years, two centuries, she still stands strong and true on the granite ridge, and her glow has held steady no matter what storm. And she's still a beacon, still a magnet for all who must have freedom, for all the pilgrims from all the lost places who are hurtling through the darkness, toward home."

posted by Slublog at
02:20 PM
|
Access Comments