« Confirmed: Seattle P-I Up for Sale; Could Go Online Only; Could Fold Completely if No Buyer Steps in Within 60 Days
|
Main
|
Story is Perfectly Authentic, Says TNR CNN »
January 09, 2009
Guitarist and Bass player Kicks Unruly Flight Passenger Ass
"My boys had their headphones on. I turned around and got up and ran to the back of the plane."
I don't mind telling you, we bass boys, we gots our heads on a swivel all the time. That's what you have to do, when you find yourself in a vicious cock fight.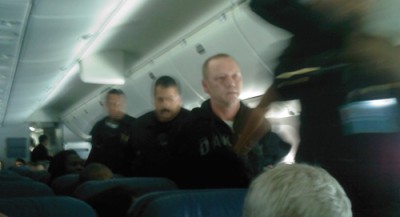 "The suspect was yelling, 'Don't come near me, I have a bomb, I have a bomb!' " Llewellyn said. The suspect had his hands in his shirt. Cornered in the rear of the plane, the suspect lunged for the rear emergency exit door.

"We all jumped him," the guitarist said. "He was struggling hardcore. I was holding down his arm. Somebody had a foot on his head. Everyone was holding down a different body part. He was going nuts. I was telling him to chill because he's not going anyplace."

At that point, the plane was on the ground and a flight attendant had retrieved a restraining kit. From the ground the suspect asked, "What am I being charged with?"

Someone answered, "Being an asshole, fuckwad."
I'm pretty sure that's what they said.
Book 'im, Dan-O

posted by Dave In Texas at
08:27 PM
|
Access Comments