« Scientist Fired by Al Gore Over Global Warming Skepticism; Says Al Gore Told Him, "Science Will Not Intrude on Public Policy"
|
Main
|
Brit Hume Signs Off For Last Time »
December 23, 2008
Drudge Blare: Prosecutors Interviewed Obama
Obama Releases, Um, Report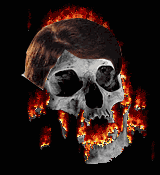 Above the Main Post Update: Obama's lawyer Gregory Craig (remember him?) says prosecutors interviewed Obama.
President-elect Barack Obama and two of his top advisers were interviewed last week by federal prosecutors probing Illinois Governor Rod Blagojevich's alleged bid to sell Obama's vacated Senate seat, according to a report issued today by an Obama lawyer. The lawyer, Gregory Craig, concluded that Obama and his aides engaged in no improper conduct in connection with the Senate opening.
Problematic? I don't believe that Obama would care enough about the Senate seat to risk his own neck engaging in bribery. However, I also think that Obama and Emanuel knew how the Chicago game was played and would not react with righteous indignation to the solicitation of a bribe -- they might steer Blago away from such a thing towards safer waters, but would not outright rebuke him.
So the problem comes if Obama's team's statements to Blago were more nuanced when it comes to improper solicitations than they're admitting. And their statements to prosecutors about their discussions had better be accurate, or else they risk an obstruction of justice charge.
Fitzgerald wouldn't have the guts for that. But it will be interesting to see how his information and Obama's claims match up.
Nothing legal will come of this. However, there might just be grist for the political mill. Not sure if I want to relive the endless scandals and endless farcical denials of the Clinton administration, but we may be on that track -- a long period of time when Obama is plausibly accused of lying and obstructing justice and yet there's never any resolution.
Thanks to CJ for the alert.
...
See also the bottom of page 3 for a friendly chat between [Obama short-lister Valerie] Jarrett herself and an Illinois SEIU chief, who told her that Blagojevich had told him he wanted to be Health and Human Services head. They both agreed, allegedly, that "it would never happen," but if you're looking for evidence that people in Obama's inner circle knew that Blago was interested in a position with Team Barry, there you go.
That's not the same as knowing Blago was offering an express quid pro quo.
But then, Barry's not entirely candid, is he?
Go-Betweens and Cut-Outs: JackStraw wants to know about indirect, back-channel discussions between the camps:
Who did Obama appoint as his political director? Patrick Gaspard, Vice President of SEIU Local 1199. What is the job of the politcal director? Probably has a lot to do with politics. The SEIU also endorsed and was the most active union working for Obama during the presidential election.

Gaspard used to be a muckety muck with America Coming Together, a sleazy 527 that used to be run by Harold Ickes and was funded by Soros but that's a whole different kettle of fish. ACT was sued out of busiess by the FEC a couple years ago for raising over $130 million of illegal coin for John Kerry.

Yet, astonishingly enough, he does not appear in the report. Odd, no?

It has been alleged that Balanoff, Pres of the SEIU in Chicago, served as a go between for Obama and Blago. Ya think there might have been a chance that Gaspard spoke with his former, former as in a couple days ago, colleague about some politics stuff?

Said it before, I'll say it again, the SEIU is a thoroughly corrupt organization and is going to be damaging to Obama sooner or later.

posted by Ace at
05:46 PM
|
Access Comments