« Something to Give Thanks For: STAR WARS!
|
Main
|
BREAKING: U.S. Embassy in Kabul Attacked by Suicide Car Bomber »
November 26, 2008
India Terror Attacks...Not Over Yet
UPDATE @ 12:40 Eastern
3 people have escaped from the Nariman House. One is an Indian who worked for the international families and 2 Israelis, one of which was a young child. The Indian commandos are still working to clear the building.
UPDATE @ 12:04 Eastern
The situation is still underway.
101 dead, commando hostage rescue operations are underway and several bombs have been found and disarmed.
The Taj hotel is still burning in places and networks have been asked by officials to discontinue live coverage at sites where 'encounters' (tactical operations) are underway.
So far 5 terrorists are reported dead and 9 captured. Dead terrorists are good but a couple of live ones for intel purposes is good too. Then kill them.
UPDATE @ 10:52 Eastern
The Indian Army has asked the networks to stop broadcasting live images from the hostage scenes. It seems they are moving in. The networks have apparently agreed. Discuss amongst yourselves how a similar request would be greeted in the US.
UPDATE @ 9:50 Eastern
The hostage situation at Nariman House, where some Israeli and other forigeners live is still going on. Apparently the terrorists are just shooting randomly from the building. The IBN reporter just said 3 people have been killed in nearby buildings...a couple and a 16 year old kid who were just walking around their apartment.
While she was reporting another shot rang out.
The cops are overwhelmed and are simply waiting for the NSG commandos.
UPDATE @ 9:28
IBN says the terrorists have been removed from the Cama Hospital. No word on casualties or captures but apparently that's one hostage location cleared.
UPDATE @ 8:50 eastern:
It looks like most of the terrorists came by boat and attacked 10 locations.
According to IBN, there seems to be 3 or 4 hostage locations...The Taj and Oberoi hotels, a local hospital and residential building that houses foreigners (Israelis were named as possible residents).
This is still an active attack and details are sketchy and subject to change.
Original Post:
Army commandos are still working to root out terrorists at the Taj and Trident hotels. There are still explosions being reported and casualties are being brought to area hospitals.
Maharashtra chief minister Vilasrao Deshmukh on Thursday termed as "very grave" the situation in Mumbai arising out of Wednesday night's terror attacks across the city that left 80 people, including 11 policemen, dead.

He said some terrorists were holed up at the Taj Hotel at Colaba and Trident (formerly Oberoi) hotels.

Deshmukh said Prime Minister Manmohan Singh had assured all cooperation to help tackle the aftermath of terror attacks.

Eleven policemen, including five officers, were killed in the attacks, he said.
Latest broadcast reports say 80 are dead and 900 (some sources are now saying it's more like 200) wounded but no one seems to think that's the final total by a long shot.
You can see a Google map of the targets here.
As it has been all along, this streaming video from an India news network has been a great resource (thanks once again to Benson for finding it).
At this point attention is naturally being focused on India's Islamic terror organizations. An organization called Deccan Mujahideen ("Indian Mujahideen") is taking responsibility.
Indian intelligence believes the Indian Mujahideen is a front group created by Lashkar-e-Taiba and the Harkat ul Jihad al Islami to confuse investigators and cover the tracks of the Students' Islamic Movement of India, or SIMI, a radical Islamist movement. The groups receive support from Pakistan's Inter-Service Intelligence and are al Qaeda affiliates.
President Bush and President Elect Obama have both issued statements condemning the attacks.
Wow...that IBN feed has the anchors talking to an Irish guy named Bruce who is stuck in the Taj hotel. The guy is scared out of his mind and in the background you can here gun fire. Meanwhile, the hotel (which is really large) is still burning in parts.
One of the terrorists...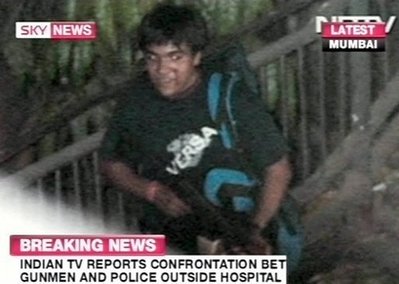 One can only hope he's already burning in Hell.

posted by DrewM. at
07:26 PM
|
Access Comments