« Dear Barack, Here's $350,000,000,000 Throw A Party Or Something. All The Best, W.
|
Main
|
Movie Review Warning: Quantum of Solace »
November 17, 2008
Project Valour IT...Don't Just Sit There...DONATE!
Ace has signed up for the Army team, so it would be cool if Moron Nation supported the Moron In Chief's decision*.
What is Project Valour IT? I'm glad you asked. Blackfive (which I think is the lead site for Team Army) explains.
Project Valour-IT, in memory of SFC William V. Ziegenfuss (Captain Chuck Ziegenfuss' father), provides voice-controlled software and laptop computers to wounded Soldiers, Sailors, Airmen and Marines recovering from hand and arm injuries or amputations at major military medical centers. Operating laptops by speaking into a microphone, our wounded heroes are able to send and receive messages from friends and loved ones, surf the 'Net, and communicate with buddies still in the field without having to press a key or move a mouse.
You can learn more about the program and donate here.
As of this moment there are 12 Heroes waiting for laptops. Did I mention the donating part?
*I'm guessing special dispensations will be issued to vets of other services or those will close ties to donate in the name of their team. The important thing is donate.
Cox & Forkum Cartoon [ace]: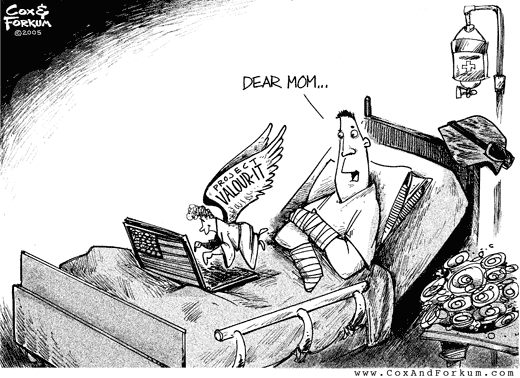 Blackfive sent that.

posted by DrewM. at
03:44 PM
|
Access Comments