« Top Headline Comments 10-31-08
|
Main
|
Obama Starts Managing Expectations »
October 31, 2008
Blasphemers Cast out of The One's Presence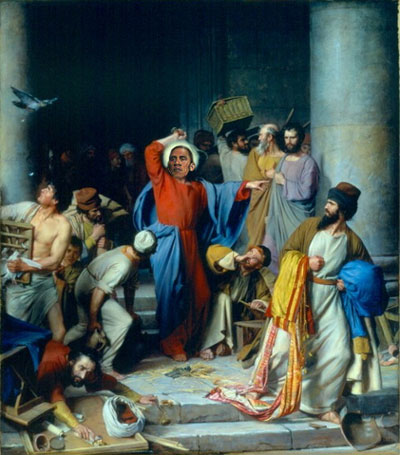 Barack Obama's campaign made a few last-minute changes on the campaign plane and oddly enough, all of those left without chairs were from papers that endorsed John McCain.
The Obama campaign has decided to heave out three newspapers from its plane for the final days of its blitz across battleground states -- and all three endorsed Sen. John McCain for president!

The NY POST, WASHINGTON TIMES and DALLAS MORNING NEWS have all been told to move out by Sunday to make room for network bigwigs -- and possibly for the inclusion of reporters from two black magazines, ESSENCE and JET, the DRUDGE REPORT has learned.
I'm sure it was just a coincidence.
If Obama wins, I'd look to the Washington Times as the paper most likely to produce the next Woodward and Bernstein. (H/t: Hot Air)

posted by Slublog at
09:55 AM
|
Access Comments