« STOP DONATING TO OBAMA: YOU'RE GIVING HIM MONEY AND BREAKING THE LAW
|
Main
|
NRO Not Accepting CNN's Apology »
October 23, 2008
Drudge Blare: Story Up, Awful but Oversold if True, and Looking Sketchy Besides
Update: Photo Out, and Story Looking Less Sketchy
Hot Air has more, and now a photo. It's looking more likely true. She's on the record by her name, and...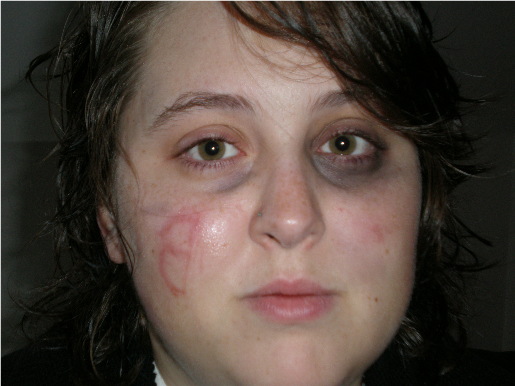 As Slublog points out, it seems very difficult for someone to give herself a black eye.
Just thinking about it, I'm pondering the high chances of crushing my eyeball in attempting to fake such a bruise. I think about slamming my eye into a doorknob, and then I have to stop thinking about it.
With that I'll stop speculating. Now that I have a name, a face, and a visible black eye it's harder to speculate this was faked. If this happened, which is likely, she needs support and sympathy, not skepticism and speculation.
I'll just chill personally and wait for the police to do their jobs.
...
Story's up. It doesn't seem premeditated or motivated, firstly, by politics.
But the political anger at seeing a McCain bumper sticker caused the mugger to become enraged.
A 20-year-old woman who was robbed at an ATM in Bloomfield was also maimed by her attacker, police said.

Pittsburgh police spokeswoman Diane Richard tells Channel 4 Action News that the victim was robbed at knifepoint on Wednesday night outside of a Citizens Bank near Liberty Avenue and Pearl Street just before 9 p.m.

Richard said the robber took $60 from the woman, then became angry when he saw a McCain bumper sticker on the victim's car. The attacker then punched and kicked the victim, before using the knife to scratch the letter "B" into her face, Richard said.

Update: Context from a native. It's a high-crime area, but it's also highly trafficked.
CA: just so you know that's a really high traffic area right on the edge of a really bad part of town and oddly enough, it's where they filmed a lot of that movie 10th & Wolf

me: thanks
does the fact it's a high traffic area make this seem more unlikely?

CA: bit of both
a lot of that traffic is sketchy
we're all surprised it happened at 9PM
that's pretty early
but there's a lot of bars and restaurants around there
I used to work 3 blocks away, and there were shootings in that area like every month
so the idea someone would be mugging people isn't totally inconceivable in that area
Kind of a wash.
There must be cameras around this area, though, and not only at the bank -- I'm getting very frigging suspicious that there's not a single image of this attack yet.
More: Garfield, as this neighborhood is called, is in fact a high crime area.
More on that:
CA [Pittsburgh native]: ok my friend lives down the street from that ATM

he says it's been hit before, and someone got shot in the head there

Correction: This happened in Bloomfield, not Garfield. But this area borders on Garfield, which is the high-crime area, and muggings often spill over into Bloomfield.

...

Original post follows:
No story yet -- not sure if it's legit.
Republican hate.
Catch the fever.
A reader points out:
"Get in their faces."
I seem to remember the insistence that McCain and Palin were responsible for the words their "incitements" caused.
Edited: Earlier notes of skepticism deleted for three reasons:
1, doubts are mostly gone now that I see the picture.
2, the police will do their jobs, and it's unfair to speculate about the victim of a crime.
3, if my quotoes remain, CNN will quote me when they say "Even conservatives smell a hoax..." CNN only quotes conservative blogs when they make points helpful to the liberal cause. I've been quoted there three times and it's always been to attack Republicans. They've never once found me quite so interesting when I'm, say, noting Barack Obama's unprecedented voter and donor fraud.

posted by Ace at
03:58 PM
|
Access Comments