« AP: OBAMA 44, McCAIN 43
|
Main
|
How to Sell a Crappy Old Futon on Craigslist »
October 22, 2008
CNN's TOP FRONT-PAGE HEADLINE BLARES VOTER FRAUD EFFORTS!
A Republican nitwit who jammed the lines of a Democratic get-out-the-vote phone bank six years ago.
What, you thought they were talking about ACORN?
What is this ACORN of which you speak?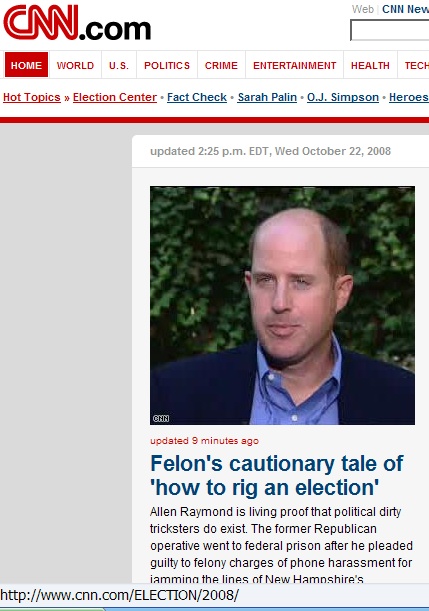 Ah, finally we have "proof" that political "dirty tricksters" exist.
It's not as if Obama workers are signing up to vote illegally in Ohio, or anything.
No, not at all. But finally, from six years ago, in the person of a Republican, we have the proof that has so long eluded us.
In related breaking news -- have you guys heard of this whole "Watergate" thing? Man, that's crazy. I'll tell you what, if they can prove any of these allegations there are going to be some serious consequences. Mark my words, and you can take that to the bank.
Thanks to Andy the Squirrel.

posted by Ace at
02:38 PM
|
Access Comments