« Top Headline Comments 10-20-08
|
Main
|
An Army of Joes »
October 20, 2008
It's the Answer, Stupid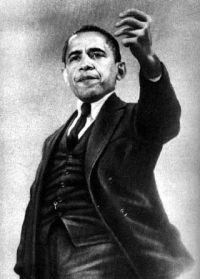 "Progress, Comrades!
Treacher has a good reminder: the media furor over Joe the Plumber isn't about Joe the Plumber. It's about making people forget that Barack Obama said this:
"It's not that I want to punish your success. I want to make sure that everybody who is behind you, that they've got a chance for success, too. My attitude is that if the economy's good for folks from the bottom up, it's gonna be good for everybody. I think when you spread the wealth around, it's good for everybody."
In the eyes of the media, if destroying Joe is what it takes to get Obama elected, then so be it.
Broken eggs and omelets. By any means necessary. That's the Obama way.

posted by Slublog at
08:47 AM
|
Access Comments