« A Guy From the Neighborhood, Whose Book I Gave a Glowing Blurb To
|
Main
|
The Video Every Undecided Voter Needs to See »
October 19, 2008
Jane Norton and a young man who is much smarter than I was at his age [Alice H.]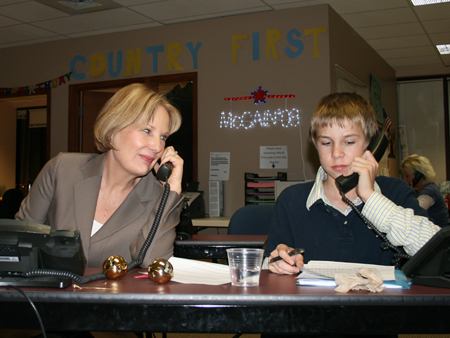 I spent the evening at the phone bank for the Colorado McCain/Palin campaign. Former Lt. Governor Jane Norton was there for a few hours making calls, along with a couple of dozen other volunteers. The young man in the picture next to Lt. Gov. Norton is a freshman in high school who had spent the entire day making phone calls on behalf of the McCain/Palin campaign.
Another volunteer was up from another state, spending eight weeks here unpaid. She had just wrapped up working a paid gig for a political campaign, and was taking some time to decide what to do next. Unlike a certain presidential candidate, she recognizes the importance of choosing her associations carefully. Unlike a certain presidential candidate's workers, she is registered to vote in her home state and will be casting her mail-in ballot there, rather than pretending to live in a house with 50 other people.
We spent the evening calling unaffiliated voters who had requested mail-in and/or absentee ballots. I know the plural of anecdote is not data, and I know that not everyone answers their phone, but if what I saw is any indication, we will be doing well among the unaffiliated.

posted by xgenghisx at
01:14 AM
|
Access Comments