« FBI Investigating ACORN
|
Main
|
Joe the Plumber About to Be "Vetted" by the Lefty Smear Merchants »
October 16, 2008
Live-Blogging the Maine Rally
Updated and Bumped with Video/Crappy Pictures
The auxiliary speakers are starting now. Up first is Ric Tyler, a local radio personality. There are thousands of people here. I'm terrible at estimating crowd sizes, but the line was at least a quarter-mile long. Now the GOP Chair for Maine, Mark Ellis, is up.
And he's still talking. Wish I could upload pictures, but because I'm a moron, I forgot to bring the cable. So crappy, blurry pictures will be available later.
There were protesters of course. The signs were the usual: "McSame/Failin," something about sending Palin back to Alaska on the back of a dog sled, and the usual Obama-worshiping stuff. Yawn.
The national media isn't here yet, so unless you live in the immediate Bangor area and get the local channels, you're unlikely to get a live national broadcast.
Shocker...the crowd seems happy, friendly and free of the hate we've been told to expect at these events. Go figure, huh?
So far, the only media here are the local papers, television stations and a local politics blog. Speaker talking about Barack Obama. The crowd is booing. Oh, the racism.
And she's here.
Lee Greenwood is up. Just sang the national anthem. He said "I suggest that the next time CNN has a poll, they poll the patriots here in Maine." Press guy near me snarks "What's that mean?"
I'm going to try to record part of Palin's speech with my crappy camera. Be back in a bit. Olympia Snowe is still talking - and Republicans are cheering for her. Sarah Palin is a miracle worker.
There have been a number of shout-outs to Joe the Plumber. Go, Joe. She's riffing a bit off the debate last night and as those of you watching can hear, the crowd loves her.
Media watch: I think all of them have blackberries. They're mostly ignoring the speech - checking email, other websites, etc.
There are pieces of the stump speech here, but it's a lot of new stuff. Talking about job creation, lower taxes and "a track record that proves we can reform." Earlier she gave a shout-out to NRA hats, Carharts and other northern climate clothes.
'As governor, I put the veto pen to half a million in earmarks...we suspended the state fuel tax. We had a surplus - returned it to the people of Alaska.' Big cheers: "It was their money, and they knew how to spend it better than government."
The media section is nice, but this hanger is cold. My typing fingers are going stiff. Good picture from this rally up at the Portland Press Herald website. My pictures are going to suck.
Talking about clean coal, she suggested a new saying: "Mine, baby, mine." The media nearby are snickering over a picture at Politico that makes it look as though McCain is reaching out for Obama's butt.
Palin is talking about children with special needs. Quoting Robert Casey of Pennsylvania on this point. Now quoting Reagan.
Shout-out to the second amendment and small towns. And sorry, kevlarchick, I can't see her boots.
Speech over. Off to see if I can get pictures.
I got a few pictures. Will post them later.
Update - Out of the airplane hanger and into a comfortable chair. Here's Palin's introduction, talking about how much Maine reminds her of Alaska:
And here's some photos. I apologize for the quality. My auto-focus started dying a few minutes into the event. Awesome!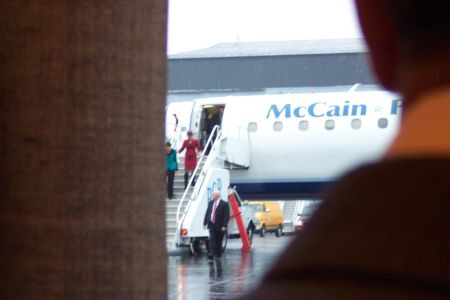 Palin and Senator Olympia Snowe get off the plane. The guy blocking the shot is from the Secret Service, so I figured it was best not to ask him to move.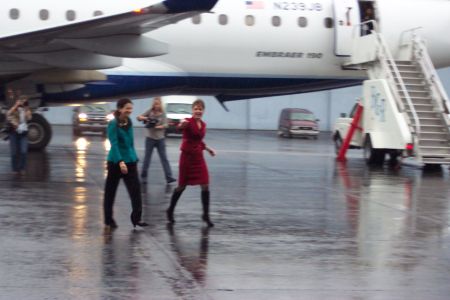 Entering the hanger. Kevlarchick, note the boots...
The crowd loved her. She was interrupted with roars quite a few times. Not cheers - roars.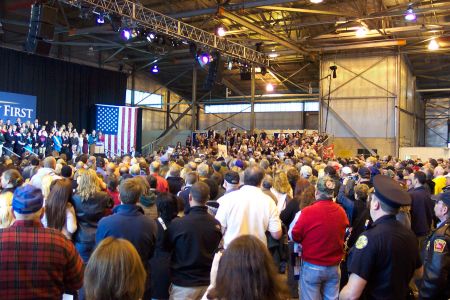 Organizers I spoke with estimated the size of the crowd to be 5,000 to 7,000 people.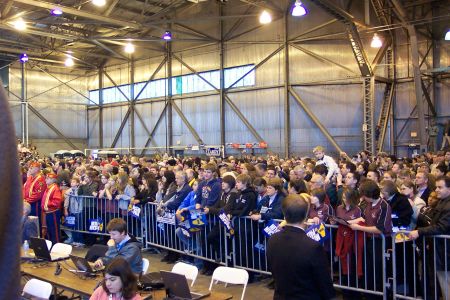 Filled the hangar.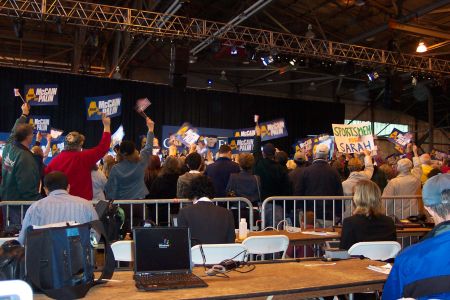 The view from the peanut gallery.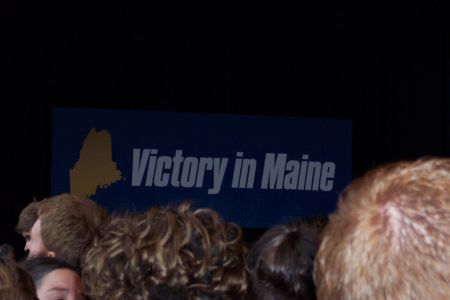 I certainly hope so.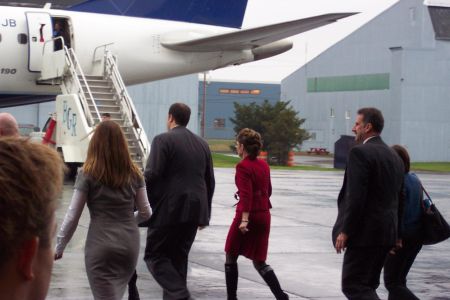 She was within ten feet of me, then took a hard turn and left for the plane.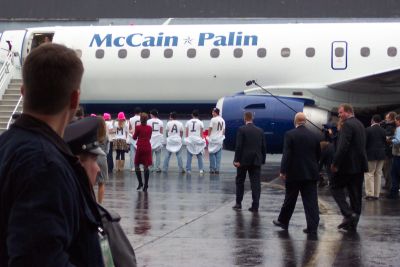 A group of teenagers wore shirts with "PALIN" on the front and "MCCAIN" on the back. They all got hugs.
Overall, a great rally. There was a lot of energy in the room, and the few hecklers who were there couldn't be heard except by those next to them. In fact, I didn't even know they were there until my father told me about them - he and my normally non-political mother were at the rally. My mother hates politics and what she calls the 'blah blah' talk shows on cable television. Except this season. She wanted to attend this rally, cheered the whole time and is looking forward to casting her vote in a couple of weeks.
From what I could see, so did the voting-age members of this crowd. Judging from the energy I saw at the rally, and the fact that McCain's ground game is very good here, I think the GOP stands a very good chance of winning the one electoral vote from Maine's Second Congressional district.
I should note, even members of the media were making jokes about ACORN vote fraud.

posted by Slublog at
01:16 PM
|
Access Comments