« More Ohio ACORN: Registrants Testify ACORN Encouraged Fraudulent Mutliple Registrations.
|
Main
|
TIP: RICO ACTION TO BE FILED AGAINST ACORN TOMORROW MORNING
NOTE MAJOR WALK-BACK OF ORIGINAL STORY »
October 13, 2008
Fresh Cowbell: Dow Up Nearly 1000; Bottom Found?
I'll post the cowbell stuff I just deleted from that other post. That one.
Wall Street stormed back from last week's devastating losses after major governments announced further steps to support the global banking system, including plans by the U.S. Treasury to buy stocks of some banks. All the major indexes rose about 10 percent, and the Dow Jones industrials rose more than 800 points.

The hope on Wall Street was that the market was finding a bottom after eight sessions of losses that sent the Dow down nearly 2,400 points. But while a rebound had been expected at some point, investors can expect to see back-and-forth trading in the coming days and weeks as investors work through their concerns about the banking sector, the stagnant credit markets and the overall economy.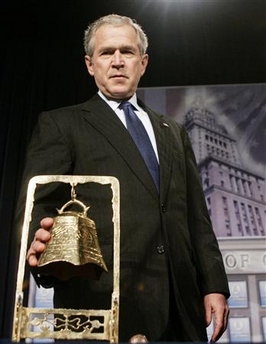 The Golden Cowbell...
So it's not just a myth!

Half-hearted repost of Mixed Media Cowbell Extravaganza. Half-hearted, because while this is good news (except for the radical government intervention part, I guess), obviously I'm deflated.
Larry suggested posting this a few days ago: a blogger's belief that 7000 was the natural hard bottom of the market.
Video Added: A song that defines the heart -- nay, the very quintessence -- of ball-dipping, even though many people pretend they don't like it, but they're liars and they know damn well they do.
This is a no-bullshit site. You know damn well you like that song. You can lie to me, but don't lie to yourself.
Oh, and since I'm going Old School, I'll trot out the official disrespected forgotten eighties artist of the AoSHQ site.
For ACORN:

Oh, One More: I had this song in my head every day during the run-up to the 2004 elections. Lyrically, one of the more blatantly conservative songs of all time -- even if Dee Snyder didn't actually mean it that way at the time.
I put it up for luck. It worked last time.

posted by Ace at
04:11 PM
|
Access Comments