« Blogger Whips Together Effective Ad on Obama and Fannie; Wonders What the Hold Up is at the RNC and Camp McCain
|
Main
|
Slublog Gets Push-Polled »
October 07, 2008
How Did Obama Not Know About Ayers and Dohrn, Given That Weathermen Terrorists Killed Brinks' Armored Car Guard and Two Cops in a Heist in NYC While He Was Attending Columbia?
Not Really a Correction, But Whatev's: The heist actually occurred in a suburb just north of NYC, Nanuet. That's still "NYC" for all purposes that count -- namely, the media market.
Oh, and also: Ayers and Dohrn were raising the child of Kathy Boudin, who was in federal prison for that robbery/murder, when they hosted his political coming out party. He didn't sort of notice an extra child floating around at his political fundraiser coffee?
I guess there's no point Katie Couric asking Obama what newspapers he reads. Apparently the answer is "none at all."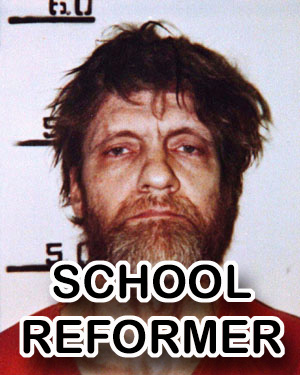 Photoshops courtesy of Lunde Designs. That's Unabomber/Domestic Terrorist Ted Kaczinsky as the "School Reformer," by the way. In case you've forgotten. I glitched on it for a second, personally. Thought maybe it was Gary Busey after a weekend of methamphetamines and highway collisions.

posted by Ace at
01:07 PM
|
Access Comments