« Palin Smears Thread
|
Main
|
Shifting American Opinion is Beating Obama Like He Owes Us Money »
September 06, 2008
Gay Gossip Site and Anti-Semitic Conspiracy Newsletter The Atlantic Has a Fresh Reason for Pride
Gay gossip site and anti-Semitic conspiracy newsletter The Atlantic's most prominent writer, RAWMUSLGLUTES, gets at the truth:
Bill Kristol on Sarah Palin. All he writes about in this piece of propaganda is electoral strategy and the people he hates in the media. In a week, he hasn't said a word about Sarah Palin's foreign policy views. I know she's being safely indoctrinated by Joe Lieberman and AIPAC as we speak, but the fact that Kristol, like the rest of us, has not yet been able to point to a single view of hers on foreign policy in her entire life, is eloquent enough. Aren't we at war? Isn't he supposed to care about national security? Is everything about pursuing power by any means to him?
Sarah Palin? What a giveaway. Couldn't be more obvious if her name were Jewdith.
In addition, though he has been positively wracked by indecision and torn by conflicting impulses on this election, he says the Jew-Robot Palin has finally settled matters for him:
John McCain has demonstrated with this insane decision that he is unfit to be president of the United States. This was an act of near-criminal negligence. If he can behave this recklessly and impulsively with this decision, the idea of allowing him to become president of the United States is only a smidgen less terrifying than thinking of Palin in that position.

Whatever few doubts I may once have still had about this election, they are resolved now.

Obama has to win. The alternative is unthinkable.
I haven't seen this level of dishonesty about being an "undecided voter" since... well, since RAWMUSLGLUTES claimed he was still deciding between Kerry and Bush for months on his blog, when he'd actually told a gay magazine that of course he was committed to electing John Kerry.
P-shop time: Let's ratchet up the pressure on The Atlantic. What I'm looking for is "advertisemnts" for The Atlantic which stress the magazine's new direction as a gay gossip site and anti-Jew conspiracy newsletter. And perhaps with quotes from Andrew Sullivan, which really convince you, the reader, why you need to subscribe to The Atlantic. For its amazing reporting.
I may run some of them in the sidebar. Sidebar width is 155 px, so you know the space you have to work with.
First! BumperStickerist offers us a Tabe of Contents.
Banner Ad! Karl's contribution.
Stay Classy, Gay Gossip and Antisemitic Conspiracy Newsletter The Atlantic Magazine: The below is not a photoshop. It is a real post on RAWMSUSLGLUTES hatesite, screenshotted one minute ago.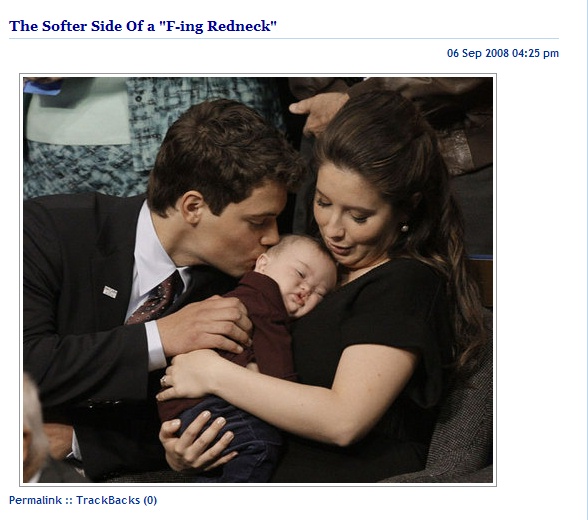 The backstory is that Levi Johnston did indeed describe himself as a "fucking redneck" on his MySpace page, at least until he deleted that.
The question: Why is Andrew Sullivan so viciously and singlemindedly determined to attack Sarah Palin's children (and her child's fiance)? I'm sorry -- was it announced that Bristol Palin and Levi Johnston would be serving as Director of the CIA and Secretary of Education, respectively, in a McCain administration?
Does anyone at the gay gossip site and antisemitic conspiracy newsletter The Atlantic object to this at all?
And once again, Obama's wonderful leadership which will unite us all -- Obama stated flatly (disingenuously, but flatly) that the Palin family was "off limits."
If Obama is such a powerful leader who will unite the country, why is that even his most rabid supporters do not respect his public requests?
If Barack Obama cannot even persuade a man who, as Christopher Hitchens observes, actually wants to have his baby, how on earth can he persuade his political opponents? Or foreign enemies, for that matter?

Thanks to TopSecretK9.

Sidebar Ad! The Atlantic: Makin' Antisemitism Cool Again!
"Sullivan and the Jew-Baiters:" This isn't a one-off thing; this is a continuing pattern with Sullivan. Among his other greatest hits-- warmly welcoming acknowledged Jew-hating readers to his site as he championed the fringe Bircher candidacy of once and future Jew-baiter Ron Paul.
But in a post titled "Sullivan and the Jew-Baiters," even his co-blogger Jeffrey Goldberg (ooh, what a giveaway) expressed his discomfort at Sullivan's increasing comfort with Jew-bating and Jew-baiters:
Andrew and the Jew-Baiters

Andrew purports to have been entertained by the following, from a Jew-baiting blogger:

Eric Cantor. Even more of a nobody than Pawlenty and a nastier piece of work. Congressman and deputy minority whip, Cantor looks like the pricky proprietor of the Jerk Store; essentially an unregistered Israeli lobbyist with a domestic voting record to make Grover Norquist quiver with delight. Would make NRO's Corner happy but have everyone else running for the hills.

Eric Cantor, as readers of this blog know, can be a jackass, and is someone who lies about Barack Obama's (pro-) Israel record. But "unregistered Israeli lobbyist"? This is vile, like Pat Buchanan-vile. Robert Wexler is pro-Israel, too. Is he an unregistered Israeli lobbyist? What about Rahm Emanuel, and Barbara Boxer, and Frank Lautenberg, and Henry Waxman, and Howard Berman? Are they dual-loyalists as well? Or is their tribal-based treason excused because they're Obama supporters? I wish Andrew would go back to bashing the Jew-baiters, rather than reveling in their smears.

No Jews is Good Jews: And another for the sidebar.

A Tower Sidebar: The Atlantic... Alex Jones' Prison Planet with a kickass thesaurus!
Another one from Karl.
Hey, If T&A Lovin' Cooch-Hound Fred Thompson Can Go Gay, What Chance Do the Rest of Us Have? The Atlantic... tomorrow's leftwing chatsite gay-rumors, today.
That's from Linc.


posted by Ace at
05:26 PM
|
Access Comments