« A Very Dour Chris Matthews Very Concerned About Experience
|
Main
|
Sexism (For Real This Time!): "Is She Experienced Enough?" is Sexist Code for "Is She Tough and Manly Enough?" »
August 29, 2008
The Perfect Storm? UPDATED
Shit.
This thing will pick up steam over the middle of the Gulf. Wherever it hits, it's gonna suck. A lot.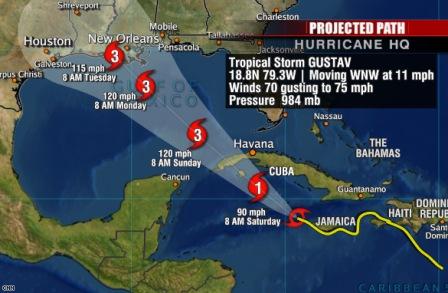 Mississippi is being proactive, as is Alabama, as is Louisiana and Texas.
I expect overreaction, federal and political. Can't be helped. The narrative is too deep and too timely.
In spite of all that shit, I hope those of you in the path take care, do what you gotta do, and come out grinning.
As Sgt. Phil Esterhaus used to say, be careful out there.
UPDATED: tmi3rd adds:
We know that the models are all taking it more and more towards southwest LA... more towards Lafayette and Lake Charles with the center of circulation. We know that right now it's supposed to strike as a category 3 hurricane- that means winds between 111-130 mph. That means a storm surge typically of 9-12 feet.

That also means that folks around Morgan City and Houma will get the northeast side of the storm- never a good place to be.

We also know that the city and state are taking it very seriously, and are setting things up well ahead of a landfall- they were in emergency management mode Wednesday.

posted by Dave In Texas at
05:25 PM
|
Access Comments