« Top Headline Comments 08-29-08
|
Main
|
CNN: How Can Sarah Palin Care for Her Chidren if She's Vice President? (Media Reax Thread)
Heh: VPILF »
August 29, 2008
VP Pick Craziness-FNC/NBC?Others: It's.....Palin.
NBC says Romeny and Pawlenty are definitely out.
Fox says it's Palin but ABC says as 9am this morning, she's still in Alaska. So if it is her, it doesn't look like she'd make it to Ohio by noon. But...Marc Ambinder playing the flight tracking game has found an interesting private flight from Anchorage to Dayton.

Whichever way McCain goes (and it looks like Palin) he and his team has done a great job of knocking The One's speech off the proverbial front page.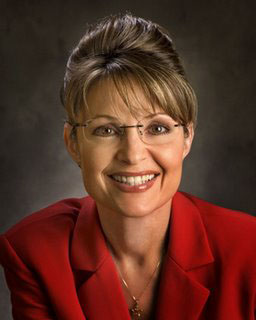 If it is Palin, it's an interesting choice to say the least. There's definitely risks, does she hurt with the "Obama is inexperienced" argument and how will she do in the crucible of a national campaign? That said, there's potential upsides...she seems more conservative than McCain (not a high bar) and in the short term, she definitely changes the conversation. How much older and whiter does Joe Biden look today?
I don't think that Palin hurts with the Obama is inexperienced issue. Her year and half as Governor is far more than either Obama and Biden (hell, even McCain) has. In a world where most have nothing, the person with a little seems impressive.
I hope she enjoys reading foreign policy briefing books!
The big question is...do the pissed off Hillary women really round around a conservative, pro-life woman?
I don't want to give any of you morons a heart attack with all this red meat but here's one more slice...teh Fred is pleased.
I am absolutely delighted by this selection. Once again, John McCain has shown that he is an independent thinker who paints in bold strokes. Sarah Palin is a conservative reformer with executive experience who will bring a breath of fresh air to Washington. She will be an ideal running mate for John McCain, and will make a major contribution to our country's future
Unconfirmed reports claim he went on to say, "If things ever breakdown with my lovely wife Jerri, I'd happily tap VP Palin, if you know what I mean."
Congratulations to 8starnorth who was the first to predict Palin in yesterday's prediction thread. Your month's worth of free AoS HQ content begins today. Enjoy!

posted by DrewM. at
10:32 AM
|
Access Comments