« Black Hillary Supporter Accuses Barack Obama's Mentor of Making Racist Awesome Remark
|
Main
|
Trent Lott Finally Figures Out Porkbarrelling, Earmarking, and Drunken-Sailor Overspending Weren't Such Great Ideas »
August 25, 2008
Lou Dobbs: Media Colleagues "Absolutely Biased," "Ridiculous"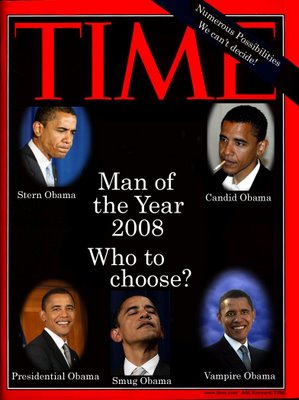 Pic swiped from Neocon Express
Well, I think the way the national media in this country right is performing, is disgraceful. And I mean, when we - "The Washington Post" had the courage to admit that it - Deborah Howell, the public editor, the ombudsman for the "Washington Post" ran a piece this past Sunday acknowledging that "The Washington Post" has put Barack Obama on the front pages of the Washington Post three times as many times as Senator McCain. "Time" magazine has run seven covers with Obama. McCain two. I mean, this is not close, folks. And it is ugly. It is nasty. And I guarantee you, we are watching a shift in the way in which the media in this country, which is already reviled by the public, I believe it's going to be even worse.

I'm an advocacy journalist. I'm an independent populist. When I speak, people know where I'm coming from. When these news organizations are doing this and trying to pretend cloaking themselves in the mantle of objectivity, you know, they're silly, (trulish), absolutely in my opinion, despicable phonies.
Another Country Heard from: Liberal historian Sean Wilentz castigates the press for protecting and cocooning Obama, letting him coast on breezy platitudes and bumper-sticker manifestos, thus leaving him free to refrain from developing any specific (announced) platform or reason for his candidacy, other than "he's cool and he's black."
Leaving him "the most unformed candidate in the history of modern presidential politics.
Obama's most ardent admirers, who include much of the political press and practically all of the liberal intelligentsia, will almost certainly report and analyze [Obama's Invesco Field speech] as a mammoth historical occasion, and quite possibly praise the speech as one of the greatest political orations ever. But will Obama, amid the pulsating theatrics, also attempt the less glamorous and more difficult task of explaining specifically where he wants to move the country, and how he proposes to move it, above and beyond reciting his policy positions? History, as well as recent public-opinion polls, suggests that he badly needs to do so. As a lifelong Democrat who supported Sen. Hillary Rodham Clinton during the primaries, I would like to see him succeed in fulfilling his promise.

...

Senator Obama's efforts to reinterpret the Democratic legacy have thus far amounted chiefly to promising a dramatic break with the status quo. His rhetoric of "hope" and "change" has thrilled millions of Democrats and helped secure the party's nomination. Yet millions of other Democrats still find his appeals wispy and unconvincing...

...

Then, suddenly this summer, Russia attacked Georgia—and Obama's immediate reaction was to call for reasonableness and good intentions and urge both sides to show restraint and enter into direct talks. Unfortunately his appeal sounded almost like a caricature of liberal wishful thinking. It was left to his opponent, John McCain—whose own past judgments on foreign policy demand scrutiny—to declare right away the sort of thing that might have come naturally to previous generations of liberal Democrats (let alone to a conservative Republican): that "Russia should immediately and unconditionally cease its military operations and withdraw all forces from sovereign Georgian territory." Beyond the matter of experience, beyond how thoroughly the two candidates had thought through the situation, the difference highlighted how Obama still lacks a comprehensive vision of international politics.

...

That Obama's record and statements have created any other impression cannot be ascribed only to his campaign's political skills and the news media's favor. Liberal intellectuals have largely abdicated their responsibility to provide unblinking and rigorous analysis instead of paeans to Obama's image. Hardly any prominent liberal thinkers stepped forward to question Obama's rationalizations about his relationship with his pastor, the Rev. Jeremiah Wright Jr. Instead, they hailed his ever-changing self-justifications and sometimes tawdry logic—equating his own white grandmother's discomfort in the presence of a menacing stranger with Wright's hateful sermons—as worthy of the monumental addresses of Lincoln. Liberal intellectuals actually could have aided their candidate, while also doing their professional duty, by pressing him on his patently evasive accounts about various matters, such as his connections with the convicted wheeler-dealer Tony Rezko, or his more-than-informal ties to the unrepentant terrorist William Ayers, including their years of association overseeing an expensive, high-profile, but fruitless public-school reform effort in Chicago. Instead, the intellectuals have failed Obama as well as their readers by branding such questioning as irrelevant, malicious or heretical.

...

On these fundamental questions may hang the fate of Obama's candidacy. In the absence of a compelling record, set speeches, even with the most stirring words, will not resolve these matters. And until he resolves them, Obama will remain the most unformed candidate in the modern history of presidential politics.
Guide to reading that piece: Skim/skip when he begins recounting the legacies of past Democratic presidents from the end of page one to the end of page 2. All nonsense. Then start reading again.
Good stuff, except for the page-count-padding review of history we all basically know.

posted by Ace at
02:56 PM
|
Access Comments