« Update: Second Envelope Sent to Manchester, NH Office
Breaking: McCain's Denver Office Receives Envelope Containing White Powder, Threat
More: DKos Diarist Wins Olympic Gold By Shattering Previous Record for Questioning Timing By 88.2 Seconds
|
Main
|
Two GOP Sources Say It's Romney Now? »
August 21, 2008
Racist McCain Ad Questions Whether a Black Man Should Be Allowed to Buy a Nice House
Also, at the very end, there's a picture of a White Man, but I think that's McCain himself, so I'm not exactly how to score that.
I'm going to mark that down as "subtle racism" until Joshie Marshall and the brain-trust at TMP explicate it for me. I think it may be possible that John McCain here represents a scared old Typical White Person who's all like, "Oh dearie me Martha, they're taking over the neighborhood and they're going to break in and steal my Centrum Silver!"
I think that's probably what he's doing in there. Again, we shall have to wait for the Racial Decoder Rings.
For those keeping score at home, that's three racist ads, two stirrings of age-old fears about miscegenation, one "revolting" and/or "despicable" reference to 9/11, one incidence of "subtle racism," one staged anthrax attack, one error and one fielder's choice.
Liberals call this "one of the darkest days in the history of political campaigning."
Karl Rove calls it "Thursday."
Bonus Timing-Questioning: From the guy who straight-facedly calls others "drama queen(s)" indulging in "emotional hyperbole."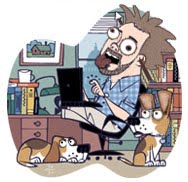 Timing Is Everything
21 Aug 2008 07:40 pm
The Chicago-Sun Times reports that the Rezko sentencing has been bumped from September 3th to October 28th, one week before the election.

...
Isn't liberal super-hero Fitzpatrick in charge of this office and case?
I guess "They" got to him, too.
KRYMB.

posted by Ace at
07:26 PM
|
Access Comments