« It Looks Like It's Bayh
|
Main
|
Russia Threatens Poland With Measures "Beyond Diplomacy;" Rice Reminds Russia We Have A Treaty Guaranteeing Defenses "Beyond Diplomacy" as Well »
August 20, 2008
Michael Goldfarb's Reckless Remarks Threaten the GOP Coalition
I am thoroughly disgusted with the comments of Mr. Goldfarb [linking Goldfarb's recent crack about D&D players].

I am further to the right, politically, than John McCain. I'm also a Dungeons and Dragons player. I don't know why Mr. Goldfarb felt the need to connect liberals with D&D, but his comments were ill-informed. Most of the D&D players I know aren't liberals. In fact, most of them don't live in their mothers' basements, either.

There are more than 1 million gamers in the United States. I'm glad to know that Mr. McCain's lead is so pronounced that he can alienate this segment of the population.

As for me, I won't be voting for John McCain in November, certainly not as long as Mr. Goldfarb remains on staff.
Okay, just so everyone knows what's going on: My personal "spat" with Goldfarb is entirely contrived for humorous effect. And Goldfarb, once I demanded an apology (okay, once I joking suggested he write a humorous apology), wrote back thus:
If my comments caused any harm or hurt to the hard working Americans who play Dungeons & Dragons, I apologize. This campaign is committed to increasing the strength, constitution, dexterity, intelligence, wisdom, and charisma scores of every American.
That was an apology for his first D&D joke, he's now made a second, but come on.
Obviously this guy knows his way around a d20. He looks like the sort of guy most comfortable viewing the world over the top of a Dungeon Masters Screen. The sort of guy who carries 4d6 in his pocket "just in case." The sort of guy who still remembers the name of his Top Secret character ("Brock Cordite") and his weapon of choice (12mm gyrojet with plutonium "hot rounds").
Although -- while I'm kidding -- other people seem pissed off.
And, just to razz him some more, I have to say it's pretty bold for a political blogger to play the "dork" card on anyone. That's like RenFair groupie telling her boyfriend-slash-liegelord, "Let's be practical about this."
Then again, his girlfriend's cute. I guess he thinks that's like a +5 Periapt of Protection.
Not in an Anti-Magic Field, Michael. Not in an Anti-Magic Field.
It's Not Just the Crime, It's the Hypocrisy! Slublog says he was passed this incriminating photograph by a mystery woman calling herself Lucy Ramirez (who also passed the fake TANG documents to Bill Burkett).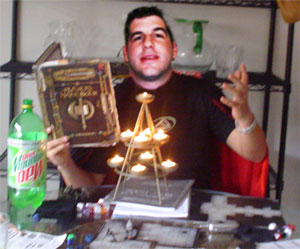 Michael Goldfarb preparing to again slam D&D players,
or, as he knows them, "My Thursday Night Crew."
He's thinking about really nailing them this time--
that's right, Owlbears.

How Silly Can You Get? Over at Pandagon, one of Amanda "Hot Sticky Loads of the Lord" Marcotte's cobloggers has posted this "spat." The post and many of the comments are humorous (but not as funny as our stuff, natch), but some people seem to be taking this... a bit too seriously.

A quick Gamer Poltics update for those not in the know:

when RPGs first got big, with D&D;, they were by and large a conservative pastime. There's a couple of reasons for this.

First of all, D&D;evolved out of wargames, not as one might assume from acting/storytelling stuff. It was big at MIT and Caltech, and then more generally among technical types. Most middle-aged gamers now are the ones who were in engineering school back when it came out, and engineers tend to be pretty conservative.

D&D;also has a pretty conservative bent as a game, though this is avoidable. The first few versions were all about tracking down "evil" races, killing them and taking thier stuff. These days the rules less directly reward genocide, but it's still a big thing. Although the polytheistic bent offends some wingnuts, the fact of the matter is that essentially every edition has presented, as a major hero archetype, a crusading cleric of a pseudo-christian sun god. And weirdly, despite the presence in D&D;of multiple gods, clerics are usually encouraged to send prayers and offerings to only one, and attempt to convert other people ot his faith.

Plus D&D;has long been associated wiht LotR, which is itself a conservative fantasy.

My understanding is that not until White Wolf published Vampire did anyone realize there was a secondary RPG market among liberal actor/writer types who might come fo rthe storytelling, stay for the violence, rather than the other way around. Two this day the gaming community is divided long essentially political lines, with the Tough, Manly D&D;players deriding White Wolf and other more free-form, less rules-intense games as pansies, gays, goth chicks who can't do math, etc., etc.

I actually prefer D&D;, but D&D;players do have a tendency toward anxious wingnuttiness.
Or:
It's one of those "if I offended...." non-apology apolgies. Try this, Goldfarb: "I sincerely apologize for my intemperate comments about D&D;players, and going forward I promise to restrict my ignorant generalizations to groups that deserve it, such as homosexuals and blacks."
That would be funny if the guy was being cheeky, but I don't think he is. I think he's actually annoyed.
Goldfarb didn't offer an "if I offended" apology -- but, coincidentally, that's exactly the sort of non-apology I suggested he make.
At first glance this variation on anti-intellectualism would seem to make sense since McCain is trying to court the Xtian fantasist and psychopath ex-jock demographics that make up the Bush voter base. But this former neutral-good ranger is reminded of those cursed wands that backfired on the wielder.

Geeks of Gaming past and present may be a politically diverse bunch (I recall the wargamers and miniatures guys being more right-wing than the pencil-and-paper RPGers) but there appears to be an "attack on one is an attack on all" treaty in place when real dorks like Goldfarb try to smear us.
I think the treaty he's referring to is the celebrated Wad Accord.
And of course:
Just as a quick note, upyernoz is correct—this appears to be an "apology" for the *first* time Goldfarb insulted gamers, based on the date of the article and comments at Ace of Spades. He did, indeed, mock D&D players again yesterday. Which goes to show just how honest the first apology was…
Having been involved in contriving the "apology," I can assure you it was never particularly serious, and I'm a bit perplexed that someone could imagine otherwise.
I invoke the William Shatner Diktat: Get a life.
You don't want to be that guy. Don't be that guy.
Obviously, he's a Druid. You know, the whole Commune with Nature thing; he's like a Vegan, sickly-pale Beastmaster. He doesn't actually fight monsters; instead, he casts one of his many Summon Squirrels spells, shouting out, "O, my Friends of the Silver Forest! Come to me, O Woodland Creatures! Protect me from this fell beast!" You know, that kind of pansy shit.

And the big problem isn't that he's played the game. No, the problem with [him] is that he's the guy that got way, waaaaay too into D&D. The guy you worry about.

He's the guy that just can't limit himself to a two page character sheet; no, he's written a sixteen page opus about his character, tracing his family's lineage back to the Age of Chaos, and he's spent three months sculpting his own miniature because it's just imperative that his figurine displays his correct arms (broadsword in the right hand, sickle in the left) and armor (dragonhide studded leather). He's always talking in that godawful British accent he got from hearing other people repeat Monty Python bits, and he's forever nattering on about his character's improbably-convoluted backstory, how he was the bastard son of the Black King Gondorad, how he served in his youth as a guard in the King's Royal Concubinage (and what ribald tales he can tell you of that!), and that his evil half-sister Orgasma is forever scheming against him, lest he ever lay claim to the Black Throne.

And you're like, "Dude, that's all well and good, but I just need to know your Armor Class so I can see if this gnoll hits you with the stick."

And he's just so freaky and creepy, you're all on pins and needles around him, wondering when exactly this lunatic is going to have his next regularly-scheduled psychotic break. The Dungeon Master in particular is absolutely scared shitless, and always fudges his saving throws to keep him alive, because you just know that if his Druid Lord ever goes down in a fight, [he's] going to go all Mazes & Monsters on the whole group. He'll kill you, skin you, make soup out of your meat, and store your polished skeletons the crawlspaces of his parents' basement.

And so that's how it goes. Every time you find a treasure, the Dungeon Master is like, "Oh, look, [dude], another +6 Vorpal sword for mighty Baradach Brightsword!" Until he's got like eight of the frigging things, like they're a set of Ginsu steak-knives or something. And when the other players complain -- "Why does [he] keep getting all the kick-ass magic items?" -- the Dungeon Master just takes them aside and says, "Dude, give me a break. This is life and death here. I want to live long enough to make blue belt in my aikido class."

posted by Ace at
03:13 PM
|
Access Comments