« Dark Triad: Combination of Narcissim, Sociopathy, and Psychopathy Helped James Bond Get Pussy Galore
|
Main
|
Heh: Switch Hitter vs. Switch Pitcher »
June 20, 2008
NYT: Obama Is Killing Public Financing System
An "imperfect way to rid politics of the excesses of special-interest money."
(Until McCain/Feingold refined it.)

Obama's latest flip is a humdinger, and his cheering squad in the MSM is soft-soaping it as he can't bother with the "broken, imperfect system".
I expect McCain to suggest changing the 1040 $3 check box to $9.19.
I won't check it then either.
Broken. Imperfect. System.

I hate those. But if he manages to kill it, that's change I can hope in.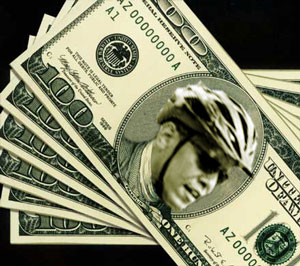 I firmly believe in campaign funding. That's my position and I'm sticking to it.
shop courtesy someone who isn't working any more than I am today.

posted by Dave In Texas at
12:42 PM
|
Access Comments