« Are These The Pakistani Soldiers That Were Killed By the US?
|
Main
|
My Last Word on Boumediene »
June 13, 2008
Does Barack Obama Read Ace Of Spades? UPDATE: Confirmed!
Could be. If he does, I don't think he's a fan of Slu's.
The Obamassiah (Hi!) was thanked by a supporter for wearing a bike helmet while going for a ride last week. Obama's response?
"I had an internal debate," Mr. Obama said. "Because I knew that the A.P. was going to take a picture, and they were trying to portray it like Dukakis wearing that tank helmet. But I wanted to make sure that the children who saw that picture knew that even the Democratic nominee for president wears a helmet when he goes biking." (The crowd applauded enthusiastically.)

Then he admitted to being wounded from some critiques of his bike-riding outfit, which included sneakers, jeans and a tucked-in polo shirt.

"Now, obviously the rest of my apparel was apparently not up to snuff, because I got a hard time from all sorts of blogs," he said, "Who said I looked like Urkel."
Wherever might he have seen such a thing?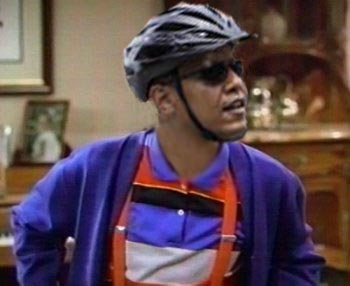 Also, credit to messablue who made the Urkel connection early on.
Welcome to Moron Nation Sen. Obama. Grab a bottle of Valu-Rite and let's discuss your idiotic notions about the economy, foreign policy in general and Iraq in particular, etc...
UPDATE: Senator Obama writes in the comments:
Despite having read this blog for some time now I have just been informed of the quality of comments typical of this site and I must say I am disappointed. This is not the Ace of Spades I knew. After much soul searching I have made the deeply personal decision to no longer read or post here. Please be assured that my faith in beating hobos and drinking val-u-rite have not changed and come January Michelle and I will be looking for a blog where we can feel conformable expressing these ideals but right now Michelle says this isn't helping our kids.

I realize this is a busy site and this amounts to throwing many people under the bus at one time but it's is our hope that this change will provide so many bumps that the ride will actually even out and improve.

Now, if you will excuse me I need to email Scarlett and convince her I am not Urkel.
Heh.

posted by DrewM. at
10:14 AM
|
Access Comments