« McCain's Stupid Townhall Meeting Thread
|
Main
|
Does Barack Obama Read Ace Of Spades? UPDATE: Confirmed! »
June 12, 2008
Are These The Pakistani Soldiers That Were Killed By the US?
Hmm.
Or were Pakistani soldiers accidentally killed in a legitimate attack upon insurgents operating inside Afghanistan? Inquiring vid below the fold.
I don't know. I just know this airstrike, ostensibly recorded on June 10, doesn't look like it's hittin uniformed Pakistani troops. Or a wedding party. (update: commenter Erik the Red points out article says "paramilitary").

TOPICAL THURSDAY! In the sidebar I mentioned the fact-checking, liar scathing truth detector and lie-defyin internet powehhaus that is Barack's New "Nuh Uh!" website, refuting the most lame powerful damnations allayed against his messiahness.
Captured by Slublog, who is sure possessed by the demon Henry, devourer of souls and shit. The straight dope from Barack's own site..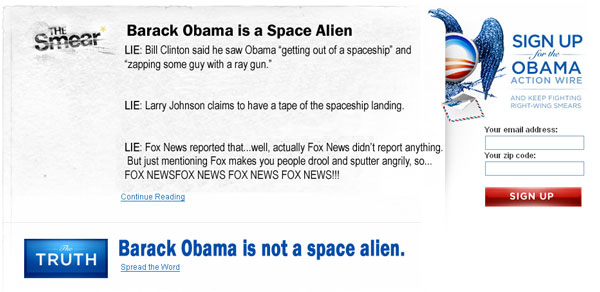 It's true because they say so. He is not a space alien. So fuck off with that shit.

I admit it's just a video of bombings against obvious enemy combatants. I'm willing to wait and see what happens here.

posted by Dave In Texas at
10:43 PM
|
Access Comments