« Obama Is a Freakin' Idiot and His Followers Are Even Dumber
|
Main
|
Hillary…The Dream Is Dead »
June 05, 2008
The Moustache Speaks…And It Doesn't Think Much Of Obama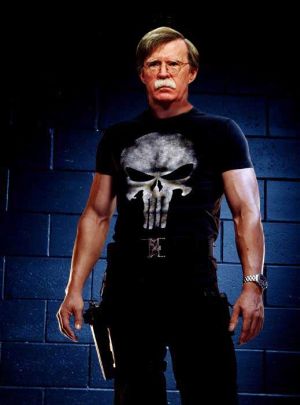 Courtesy of the Slushop Collection
Fresh from narrowly escaping arrest by some British buffoon, John Bolton takes a look at Barack Obama's understanding of history and foreign policy. Suffice it to say he and the stache are less than impressed.
Barack Obama's willingness to meet with the leaders of rogue states such as Iran and North Korea "without preconditions" is a naive and dangerous approach to dealing with the hard men who run pariah states. It will be an important and legitimate issue for policy debate during the remainder of the presidential campaign.

Consider his facile observations about President Kennedy's first meeting with Soviet Premier Nikita Khrushchev, in Vienna in 1961. Obama saw it as a meeting that helped win the Cold War, when in fact it was an embarrassment for the American side. The inexperienced Kennedy performed so poorly that Khrushchev may well have been encouraged to position Soviet missiles in Cuba in 1962, thus precipitating one of the Cold War's most dangerous crises.

Such realities should cause Obama to become more circumspect, minimizing his off-the-cuff observations about history, grand strategy and diplomacy. In fact, he has done exactly the opposite, exhibiting so many gaps in his knowledge and understanding of world affairs that they have not yet received the attention they deserve. He consistently reveals failings in foreign policy that are far more serious than even his critics had previously imagined.
And then he proceeds to really lets Obama have it. I can't really quote more because it's a taut little piece that just builds a shattering case against Obama and his supposed 'judgment' in these matters.
Allow me to offer some unsolicited advice to the McCain campaign…I know you want to do the whole Maverick thing and Democrats really hate Bolton but the thing is, conservatives love him. Announce he will be a part of your administration and I guarantee a lot more conservatives will swallow hard and support you.
Consider it a threefer….you'll get a lot of wavering conservatives to support you with some degree of enthusiasm, this appointment will enable you to pull a lot more Maverick shit in other areas while keeping conservative support and oh yeah, it'll be good for the country.
And yes, the coveted DrewM. endorsement is still out there for the candidate who pledges to put Bolton in an ass kicking cabinet spot (Sec Def or State). It still carries one vote (in a solidly blue state) and tens of dollars in campaign contributions. Act now candidates!
Via The Corner

posted by DrewM. at
10:52 AM
|
Access Comments