« The Last Stupid Primary Returns Thread
|
Main
|
Live Blogging the Night's Lack of News »
June 03, 2008
The Lima Company Memorial
Paintings of 23 fallen Marines, Company L, 3rd Battalion, 25th Marine Regiment, 4th Marine Division. One of the hardest hit single units in this war, 22 Marines and their Navy Corpsman.
It's eight life-size paintings, arranged in a circle, octagonally. On display at the Ohio Statehouse.
The paintings are the work of a Westerville artist named Anita Miller. Who became so touched by this story she felt compelled to capture it. And over the course of two years she invested her effort and livelihood. She met with and talked to the mothers and fathers, siblings, wives and friends of these men. To learn about them. To capture something about them. And tell their story.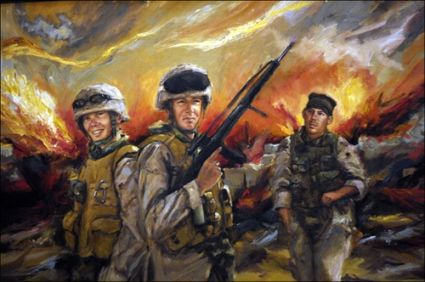 Wish I had caught this for Memorial Day. My bad.
More here on the project.

posted by Dave In Texas at
08:33 PM
|
Access Comments