« John Bolton To Be 'Arrested'
|
Main
|
HuffPo Still Supportin' the Troops »
May 28, 2008
Hillary: Obama Can't Win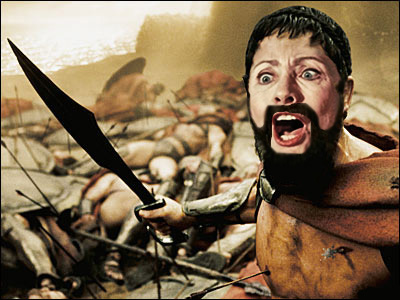 Prepare for GLORY!
She's certainly going down swinging.
We have not gone through this exciting unprecedented historic election only to lose," Clinton said at an event in Billings, Montana.

"You have to ask yourself who is the stronger candidate?" she continued. "And based on every analysis of every bit of research and every poll that's been taken and every state that a democrat has to win, I am the stronger candidate against John McCain in the fall."
Allah
points out some bad news
for Hillary's chances, though. Given how grim the situation is for her campaign, I'm surprised she's still so willing to damage the apparent nominee.
I'm guessing this sort of rhetoric is going to end any hope of a unity ticket.
Update - Doubling down. From a letter to superdelegates
After seven years of feeling invisible to the Bush administration, Americans are seeking a President who is strong, experienced, and ready to take on our toughest challenges, from serving as Commander in Chief and ending the war in Iraq to turning our economy around. They want a President who shares their core beliefs about our country and its future and "gets" what they go through every day to care for their families, pay the bills and try to put something away for the future.

We simply cannot afford another four - or eight - years in the wilderness. That is why, everywhere I go, people come up to me, grip my hand or arm, and urge me to keep on running. That is why I continue in this race: because I believe I am best prepared to lead this country as President - and best prepared to put together a broad coalition of voters to break the lock Republicans have had on the electoral map and beat Senator McCain in November.

Recent polls and election results show a clear trend: I am ahead in states that have been critical to victory in the past two elections. From Ohio, to Pennsylvania, to West Virginia and beyond, the results of recent primaries in battleground states show that I have strong support from the regions and demographics Democrats need to take back the White House. I am also currently ahead of Senator McCain in Gallup national tracking polls, while Senator Obama is behind him. And nearly all independent analyses show that I am in a stronger position to win the Electoral College, primarily because I lead Senator McCain in Florida and Ohio. I've enclosed a detailed analysis of recent electoral and polling information, and I hope you will take some time to review it carefully.
That first quoted paragraph is a killer - surely Clinton isn't suggesting that Obama is weak, inexperienced, and not ready. And the sentence about a president who shares their core beliefs? Ouch.
Remember: she's comparing herself to Barack Obama, not president Bush. What a brutally subtle way to remind voters of Obama's faults. These guys are masters at bare-knuckle politics, which makes her appeal correct - she would be harder to beat in the fall.

posted by Slublog at
12:32 PM
|
Access Comments