« Mars Touchdown [krakatoa]
|
Main
|
Newton,Mass., a town where Memorial Day really means something [John F Not Kerry] »
May 25, 2008
UK Teens dying in "Knife Wars" [krakatoa]
Tragedy of course, when anyone is murdered, especially when they are young, and the violence is particularly senseless.
A TEENAGE actor who appears in the next Harry Potter film was stabbed to death trying to protect his younger brother from an assailant outside a club in Sidcup, south-east London, early on Saturday.

Robert Knox, 18, who appears as Marcus Belby alongside Daniel Radcliffe in Harry Potter and the Half-Blood Prince, became the 28th teenager killed in Britain this year, and the 10th in London to die from stab wounds.
Apparently this a growing phenomena:
The latest murders bring to 14 the number of teenagers killed in the capital this year. Last year 26 were killed: 16 were attacked with knives, nine died in gun incidents and in one case the cause of death is yet to be confirmed.
I'm sure that is a typo -- obviously nobody could have died in a "gun incident" since guns are, of course, outlawed. Q.E.D., my dear chaps.
I can't help but wonder if perhaps the cause of violence isn't in the implements of destruction.
Crazy-talk, I know. Knife bans are truly the only sensible step to take.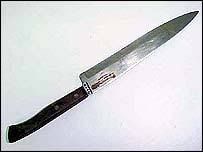 Actual quote from article: Doctors say knives are too pointed
Update: Dead Career Sketch offers up the following PSA for Brits who want to learn to defend themselves.

posted by xgenghisx at
11:32 PM
|
Access Comments