« 13 Year Old Runs Up $30,000 in Bogus Charges On His Dad's Credit Card, Including Hiring Hookers [eddiebear]
|
Main
|
"Good People Sleep Peaceably In Their Beds At Night Only Because Rough Men Stand Ready To Do Violence On Their Behalf." »
May 12, 2008
Good News: Huckabee at the top of McCain VP List?
Updated and Bumped
Mike Huckabee, the former governor of Arkansas and defeated contender for the GOP presidential nomination, is currently at the top of John McCain's short list for a running mate. At least that's the word from a top McCain fundraiser and longtime Republican moneyman who has spoken to McCain's inner circle...
The story continues by pointing out the logic of picking Huckabee for the spot. My favorite is the last one:
Economic conservatives and supply-siders may balk, but the threat of four years of Obamanomics and higher investment, income, and corporate taxes might be enough to keep them on board.
Get that, guys? If this source is correct, McCain is counting on the 'lesser of two evils' strategy.
Not sure that's going to work out for him.
Thanks to V the K for the tip.
Just because: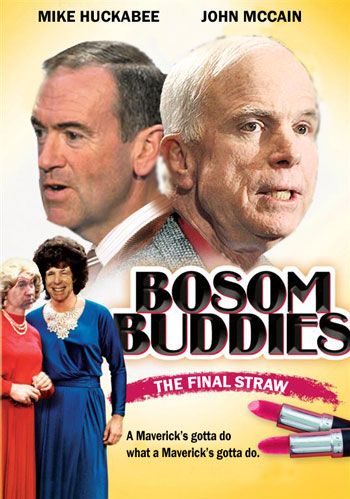 Thanks to DrewM for the idea.

posted by Slublog at
02:20 PM
|
Access Comments