« Open Blog
|
Main
|
Woman Finds Naked Stranger On Her Toilet [Nice Deb] »
May 10, 2008
Nobody is bigger than Justice! [krakatoa]
Well, almost nobody.
Of all places, you'd think at least in Las Vegas it would require some amount of charm and personal grace to be a judge.
And you'd be wrong.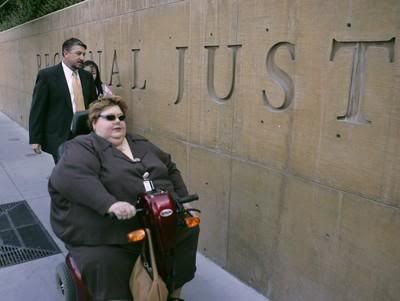 That's not a fat joke. I'd never be that shallow. I'm talking about the way she misuses her position as a judge.
Her former bailiff, for example, says Halverson made him feel like a "houseboy." He says the judge — who is obese and uses a motorized scooter to get around — made him put her shoes on her feet, massage her back, cover her with a blanket for naps and make sure her oxygen tank was filled. He says she asked him, "Do you want to worship me from near or afar?"

Halverson also surrounded herself with her own hired guards, saying she did not trust the courthouse security force to protect her. Another time, she allegedly had her husband sworn in so that she could ask him under oath if he had completed chores at home.

Since then, the 50-year-old Nevada district judge has been locked out of her Las Vegas courtroom, suspended from the bench and brought up on judicial-misconduct charges that include not only misusing her position and treating her staff like personal valets, but also tainting juries and falling asleep on the bench.
I'm guessing they've also got some legal arguments they could make along the lines of inciting violent revolution by the machines. I swear, I think I can see that scooter crying. Ok, I give -- that was a fat joke.
I think, however, she may be the perfect presidential candidate for our times; the perfect synthesis of the modern Left and Right:
"In fairness, she believes she's fighting the fight of a maverick," [her defense lawyer] said. "I think her position is, `Why should I be another cog in the machine? Isn't it what the voters elected me to do, bring change?'"
And according to another of her lawyers:
"Last time I checked, being a judge doesn't require a beauty contest."
Damn you Las Vegas. Damn you to hell.

posted by xgenghisx at
08:21 PM
|
Access Comments