« Petty Officer 2nd Class Michael A. Monsoor: American Hero And Medal Of Honor Recipient
|
Main
|
Disturbing Pictures of Oddball Vaginas and Mishapen Breasts »
March 19, 2008
Andrew Sullivan: Racist
I held off on this. I'm glad I did.
Because today, Andrew Sullivan calls anyone who didn't sprout a second erection over Obama's speech a racist:
Funny []how there is always a sinister explanation when people don't share Andrew Sullivan's enthusiasm of the year: "To read the Corner today was to be reminded that some are immune to the grace and hope and civility that Reagan summoned at his best; the anger and bitterness is so palpably fueled by fear and racism it really does mark a moment of revelation to me." I thought it was a dishonest and evasive speech with a few very good moments. Is that allowed?
Count Brian Ross of ABCNews, noting the evasions and admissions of previous lies by Obama, and Mickey Kaus, painstakingly dissecting the evasions, rhetorical cons, dissemblings and dubious equivalencies in Obama's speech, as fellow racists.
Now, the headline calls Andrew Sullivan a racist. Not that he's tossing the slur "racist" around lightly, though of course he's doing that; Sullivan is a shallow, glib thinker at best, as deep as the sheen on a glossy magazine, and has made a career of disguising this fundamental unseriousness and lack of studiousness (to say nothing of candor and integrity) by simply ramping up his emotional excesses and finding clever-ish new slurs to toss at people; I, for example, am a "foaming Caesarist," which is a cutesy insult and one I wouldn't mind using, I suppose, were I more pretentious. But it does not establish his seriousness as a thinker or writer that he writes endlessly of "heart-ache" and "nausea" and "disgust" and "sickness-inducing vileness" and all the rest of his hypercharged girlishly overemotive palette of put-downs, all the time maintaining he's a pretty cool customer who views the world through eyes so coldly rational they positively glint with intellectual ice.
I don't mind invective in discourse, of course. But then, I'm not the preening peacock that Andrew Sullivan is, forever chiding writers for lacking "civility" while freely indulging in playground taunts with only a glib, cheap reference to stuff he dimly remembers from university to disguise the fundamental childishness of his basic form of argumentation-by-insult.
So now we turn to the headline: "Andrew Sullivan: Racist."
I do mean that: Andrew Sullivan is a racist, or, at the very least, a writer, or perhaps a typist, let us say, who is an endless font of apologism on behalf of racists, so long as he harbors a political crush on the particular racist of the day.
Let's just dwell on the racism itself and not on Wright's unhinged conspiracy-mongering. We all know that the somewhat addlepated Mr. Sullivan has a weakness for conspiracy theories which help unite his manifold enemies into one large Sinister Syndicate of Sinfulness. So just the racism then, and not the enthusiasm for Truther-style wheels-within-wheels conspiracies.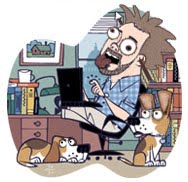 We shall also not delve deeply into his invitation to neoconfederates, Jew-haters, and Truthers to read his blog and join him in his quixotic effort to make Ron Paul, racist Southern revanchist, the standard-bearer for the Party of Lincoln. His traffic was hurting, and he knew he needed fresh eyeballs. He had alienated everyone on the left and everyone on the right; so of course the only readers remaining were the bitter resentful cranks who fit comfortably into neither pole, but instead made up their own singular extreme.
So if extending the hand of friendship to Truthers, Jewthers, and Kuthers would help him pay for his extravagantly costly Golden Bandwidth needs, well, fine with me. We cannot afford to lose such an important voice merely due to the difficulty of coming up with $120,000 to pay for his servers.
It is not at all surprising that Andrew Sullivan, confronted with his hero Obama's 20 year courtship of a vile racist, would so excitedly declare:
Alas, I cannot give a more considered response right now as I have to get on the road. But I do want to say that this searing, nuanced, gut-wrenching, loyal, and deeply, deeply Christian speech is the most honest speech on race in America in my adult lifetime. It is a speech we have all been waiting for for a generation. Its ability to embrace both the legitimate fears and resentments of whites and the understandable anger and dashed hopes of many blacks was, in my view, unique in recent American history.

And it was a reflection of faith - deep, hopeful, transcending faith in the promises of the Gospels. And it was about America - its unique promise, its historic purpose, and our duty to take up the burden to perfect this union - today, in our time, in our way.
Ah, a pretty -- but evasive and fundamentally dishonest -- speech is enough to correct a 20 year history of courting racists? But Andrew Sullivan's always been a rather cheap date for those men who strike his fancy.
We've seen this before. And not very long ago, either.
After a few days of hemming and hawing and excusing and deflecting over the Ron Paul racist newsletters, Excitable Andy finally roused himself to actually condemn them:
It took a while to get through to their server but I was finally able to read Jamie Kirchick's review of the various newsletters sponsored by Ron Paul in the 1980s and 1990s. They are a repellent series of tracts, full of truly appalling bigotry.

...

I don't know enough about the arrangements behind these pamphlets to tell if this is a plausible defense or not. But there is a simple way to address this: Paul needs to say not only that he did not pen these excrescences, he needs to explain how his name was on them and disown them completely. I've supported Paul for what I believe are honorable reasons: his brave resistance to the enforced uniformity of opinion on the Iraq war, his defense of limited constitutional government, his libertarianism, his sincerity. If there is some other agenda lurking beneath all this, we deserve to know. It's up to Ron Paul now to clearly explain and disown these ugly, vile, despicable tracts from the past.
Tough stuff... or superficially so, at least, as coolly analytical Sullivan gamely attempts to relieve Ron Paul of any responsibility while simultaneously offering the pretense of the obligatory moral outrage. But note he does allow that Paul was at least "negligent" in permitting racist filth to go out under his byline -- and oh, by the way, pad his pockets -- for 10 or 15 years, eh?
Now, given that Andrew Sullivan has at least allowed that Paul was morally negligent here -- and perhaps even more (if it can be proven, and of course no offer of proof would ever satisfy Sullivan) -- one would expect him to be rather down on Ron Paul for a while. Whether it's negligence or more (psst-- it's "more," for those of you playing along at home), Sullivan brands all this "vile," "repellent," etc. You know the litany; Sullivan has his thesaurus permanently bookmarked right at the word "disgusted" and begins trotting out the synonyms when he's peeved. Or is pretending to be peeved.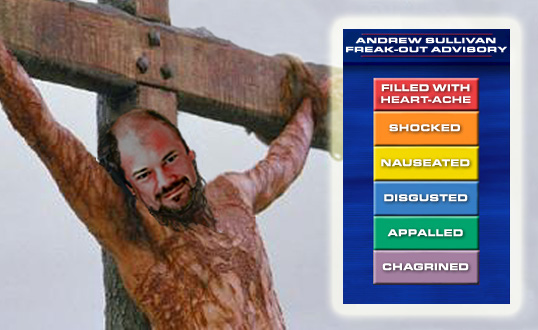 So at the very least, this is as serious offense, and at the worst, Ron Paul is the conspircacy-mongering race-bating neoconfederate Jew-hating Bircheresque crank that more clear-eyed analysts long pegged him as.
One would imagine that Sullivan, having denounced Paul in let's-pretend-I'm-outraged-about-this language, would at least keep up the pretense of anti-racism righteous anger for a while.
He did.
For two days.
What did it take to cure Andrew Sullivan of all that heart-ache, shock, chagrin, revulsion, etc.? Why, it took a swell debate performance by Paul (by Sullivan's lights, at least) just 48 hours later.
And, yes, thank God for Ron Paul.

No one else, except McCain, copped to the GOP's rank betrayal of fiscal conservatism, limited government, prudent foreign policy and civil liberties. When he was asked to disown the 9/11 Truthers, he gave a revealing answer, and one that reflects on the newsletters issue. It just isn't in his nature to adopt other people's views, or to tell anyone else what to believe or what to say. He doesn't just believe in libertarianism; he lives it. This means that he doesn't have the instinct to police anyone else's views or actions within the law or the Constitution. I don't think it excuses his negligence in the past, but it does help me understand it better.
Tough, probing Paladin of Truth he, huh? A true Son of Orwell, eh? Paul's standard-issue goldbuggery at the debate was quite enough to not "excuse[] his negligence in the past" but to at least help Sullivan "understand it better."
And let's face it-- he meant it did, in fact, excuse his "negligence." "I'm not saying this excuses it, but, um, I'm a huge fan again and I couldn't be happier to say so!" is indeed excusing it.
From that burst of pretend outrage to understanding -- in two days. After ten minutes of Paul's whining cant at a dog-and-pony debate.
So it's hardly a shocker that Obama's 20 year history of courting a black supremacist hatemonger who accuses whites of deliberately murdering blacks with CIA-concocted AIDS and CIA-supplied crack is expunged, within a few days, by a cutesy speech that Sullivan happened to fancy.
And thus do I stake my claim that Sullivan, for all his unending, ineffable moral posturing, is simply not terribly concerned about racism at all. Oh, he'll make all the right noises about being "troubled' and "concerned" and so forth and suchlike; but at the end of the day, if you're in the good pages of his "Who's Hot/Who's Not" dreamjournal, in his Crush Diary but not his Slam Book, you can get away with a rather large quantity of racism, race-baiting, and courting and pandering to and aligning with fairly hardcore racists.
He treats racism as merely a cudgel by which to smite his opponents. And yet for his political allies and sudden enthusiasms, he offers nothing but endless apologism.
Does merely not taking racism terribly seriously make one, in fact, an actual racist?
I don't know how I'd answer that question -- but I damn well know how Sullivan would answer it. At least as regards his political rivals.
And therefore, by Sullivan's own no-charge-too-low-or-too-unfair to make style of "civil discourse," Sullivan is, in fact, a racist, and a fan of racists, and an apologist for racism. So long as your racism helps the Party of Andrew, what's a little racial hatred between friends?
Graphic Credits: McGurk did that awesome "Welcome to Insanity" Daily Dementia parody.
Allah did Sullivan on the Cross, of course, plus the freak-out advisory. Though the latter was my idea. But Allah's execution.


posted by Ace at
02:31 PM
|
Access Comments