« DA: Strong Evidence That John Karr Has A Pencil Neck And Big Ginormous Freakhead
|
Main
|
Snakes On A Plane Review »
August 18, 2006
Andrew Sullivan/The Daily Dementia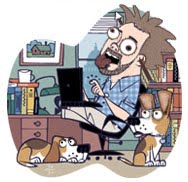 Bugs
Bugs! Bugs! Bugsbugsbugs! Bugs! Shitbastard!

The View From Your Window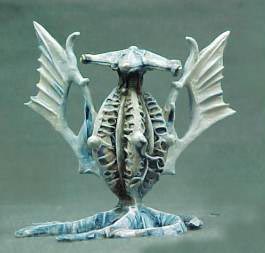 Thanks to Nii'ainy'glathh'hurk, from Yoggoth.

Painting Your Walls With Your Own Feces
Eh, why not? On Trading Spaces they're always saying rooms need a "pop" of color.

Bush: Satan
VOICES IN MY HEAD TELLING ME KILL KILL KILL BUT I IGNORE THEM I TRY TO IGNORE THEM GOD GIVE ME STRENGTH PLEASE PLEASE I DON'T WANT TO DO THIS WHAT IS THAT SMELL COMING FROM MY REFRIGERATOR OH GOD NO WHAT HAVE I DONE

Email of the Day
Andrew, I just wanted to compliment your bravery on your post "Bugs." You captured a feeling deep in the heart of this country, but which too many are afraid to express. When you write "Bugs! Bugs! Bugs!," you sum up the frustration of millions of Americans who are tired of seeing Bush/Cheney transdimensional parasitic beetles burrowing into their skulls and devouring their cortex fluid.

And when you write "BugsBugsBugs! Shitbastard!," you give me hope that the incompetence of Donald Rumsfeld will one day come to an end, and that the nine foot tall centipede who has taken the place of my wife will finally be exposed as the Infiltrator Insect it is.

Thank you for your courage and independence, and keep on bugsbugsbugsbubsbugs! Dirty ratwhore soup! Bugs!
Thanks to reader "Good Andrew" for that, who is the "Other Andrew" who hides in my left eyeball when "Bad Andrew" is looking for him. "Bad Andrew" does... things to "Good Andrew." Terrible things.
We must talk of this no more. He's coming.
Oh, hi, Bad Andrew! I was thinking of you! I bought you some pants at the Gap!
Why... why are you holding that meat-cleaver, Bad Andrew? Talk to me... I don't like it when you stare like that...
Don't you want to try on your new khakis? They're pleated.
Was I... not supposed to buy... pleats?
Please answer me. Please answer me.
Bugs!
...
Cognitive dissonance. It's not just a river in Egypt.
Welcome, Corner Readers: I don't know if this was linked on the Corner, but you should know what this post is about.
Andrew Sullivan actually "aired" the theory that Cheney and Rumsfeld deliberately lost the War in Iraq so as to not have to bother with that nation-building nonsense after they shock and awe Iran. This is most unhinged of his recent conspiracy-theory peddling -- and the third one in a week.
So I'm not just batting him around because I don't like him. I'm batting him around because he's gone batty.
...
Thanks to McGurk for the graphic. And the post. It inspired me.
The Hat-Trick: Allah weighs in, and notes this is the third conspiracy theory Sullivan has peddled in the past week:
1. Alex Jones's theory that Cheney shot Harry Whittington at much closer range than he claimed.

2. His own (and Azzam ["Walking Time Bomb"] Tamimi's) theory that the UK terror plot is a hoax cooked up by Bush and Tony Blair to distract from Joe Lieberman's primary loss or the war in Lebanon or etc etc.

3. A theory which he doesn't claim as his own but doesn't actually attribute to anyone else that Dick Cheney and Don Rumsfeld deliberately sabotaged the rebuilding of Iraq to create a pretext for carpet-bombing the region. Which, in a moment of genuinely gobsmacking vileness, he describes as … "the Likud strategy."
Conclusion: He's in Loose Change territory now, and he's not coming back.
The Brave, Indepdendent Sullivan... bravely soars where madmen fear to tread.

The Circle Is Now Complete Update: Sullivan completes his three year transition to a DU Nutter, writing crap that even Kos would blance at as being too insane.
It's worked: he now has enthusiastic fans at Democratic Underground.
Thanks to Robbie at the Malcontent, who really doesn't like Sullivan, and provies me with the cover I need to go after St. Andrew of the Sacred Heart-Ache.
If anyone accuses me of homophobia, I can just say, "Hey, look at what The Malcontent is doing to him! And that guy's a little 'funny,' too!"
I'm not sure what Karl Rove is paying him exactly, but he's worth every cent.

Compare And Contrast: My parody "Email of the Day," praising Sullivan for his bravery, and Sullivan's real "Email of the Day," praising Sullivan for his bravery and his smarts.
If the "BugsBugsBugs!" thing weren't there to tip you off, would it be easy to tell them apart?
That's a link to Wardobe Door, by the way, not Sullivan. He deserves a click, because he sent me that original Sullivan link.
(If it makes you feel any better, WD, I would have made my way over there eventually... but thanks.)