« McCain's "Gaffe"
|
Main
|
Andrew Sullivan: Racist »
March 19, 2008
Petty Officer 2nd Class Michael A. Monsoor: American Hero And Medal Of Honor Recipient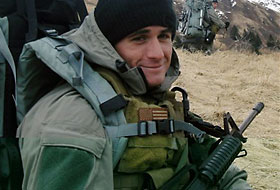 I am not generally one for bible quotes but I can't imagine how else to sum this up other than…"Greater love hath no man than this, that a man lay down his life for his friends".
A Navy SEAL who sacrificed his life to save his comrades by throwing himself on top of a grenade will be posthumously awarded the nation's highest military honor.

…Monsoor was part of a sniper security team on Sept. 29, 2006, in Ramadi with three other SEALs and eight Iraqi soldiers, according to a Navy account. An insurgent fighter threw the grenade, which struck Monsoor in the chest before falling in front of him. Monsoor, according to the account, then threw himself on the grenade.
h/t to Captain Lex who has a round up of reactions to today's 5th anniversary of the start of Operation Iraqi Freedom and a link to his own remembrances of coming home after serving on an aircraft carrier during the war.


posted by DrewM. at
02:21 PM
|
Access Comments