« Bullshit Political Firing Upheld By Commie Nanny-State Judge
|
Main
|
Heh: Jimmy Kimmel's Revenge »
February 26, 2008
Another Pic of Obama In Traditional Muslim Get-Up
Supposedly this is a relative of Obama's, holding a picture of him. I don't think that's been established conclusively yet.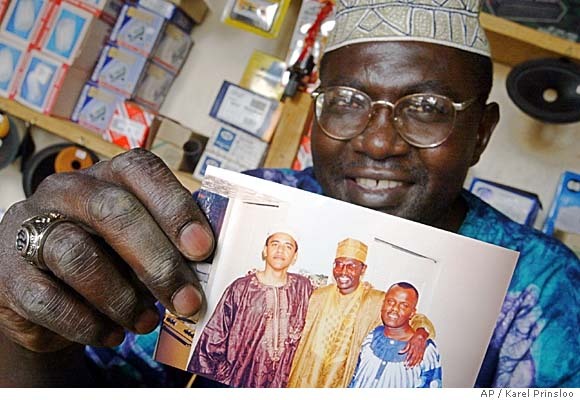 I'm just posting this because I'm so horrified the Hillary campaign would stoop to such tactics.
Sweetness and Light wonders why the AP has been embargoing these pics-- they own them.
Thanks to CAD Daddy.
I guess this is nothing. I admit I want to contrive some non-horrible argument to claim it's something, but in a nuanced and acceptable way, but I guess I just can't think of one.
Heh: Well, in case you hadn't heard, this guy named Larry Sinclaire alleged that in 1999 or so he had done coke while Obama smoked crack... and while going down on Obama.
Hm. Sounds credible.
Well, he took a lie detector. He failed as regards both allegations (about the blow and, um, the blow).
Now, here's the link to the results of the lie detector test, but be aware, this is WhiteHouse.com, a site that often posts porn. In fact, I think it's generally a porn site; this is just its "Hustler Magazine Investigative Report" issue.
So, here's the link.
Damn. That would have been sweeeeet.
Thanks to Alice H. and also Daffodil, who have been keeping me abreast of these exciting developments.

posted by Ace at
03:35 PM
|
Access Comments