« Bleg (Bleg Found, Thanks)
|
Main
|
Hope and 35 Years of Fighting Come to Texas »
February 21, 2008
Helicopter Carrying Kerry, Hagel, and Biden Makes Emergency Landing In Afghanistan
Thankfully, the helicopter is undamaged.
No, come on, that's not a death wish. I'm glad we had no loss of human -- or, especially, helicopter -- life.
Just saying: We almost had a tragedy.
Helicopters don't grow on trees, you know.
Well, I seem to be digging a hole here and I'll just stop.
Main point: Helicopter. Fine.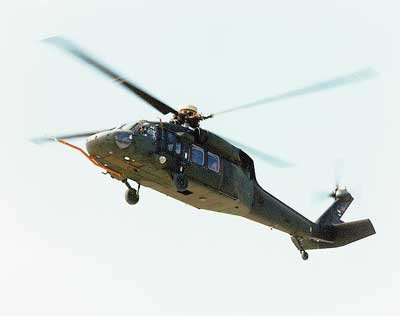 Tragedy Averted; Hero Returns To Action.
Nation Lets Out Its Collective Breath.
I seriously mean no disrespect to Mssrs. Hagel, Kerry, or Biden.
I'm just saying: Look at that. It's a really fucking nice helicopter, you know?
It's like it's waving at me with its blades. Like a puppy.

posted by Ace at
04:55 PM
|
Access Comments