« Black Monday: Worldwide Sell-Off On Economic Jitters
|
Main
|
Ezra Levant: "I blame the Jews" »
January 21, 2008
Scarlett Johansson Visits The Troops
Sure she's said some goofy things in the past but now there's another reason besides her looks to cut her some slack, she joined a USO tour of the Persian Gulf military installations.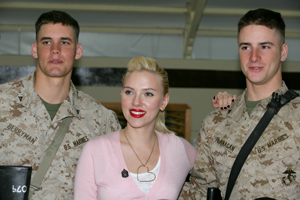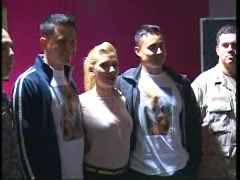 Johansson wasted no time after she arrived at the packed USO and headed toward the assembled crowd to introduce herself and meet her peers.

"It's important to give people a piece of home and to boost morale," Johansson said about her visit. "Everybody out here is risking everything, giving us one of the biggest gifts they can. I want to be out here to support them."

Johansson's friendly demeanor and sincere interest in her fans quickly won them over.

"I didn't know what to expect or what she was going to be like," said Sgt. Brian Dryer, a pay agent with the 11th MEU command element. "She seemed truly interested and wanted to spend time getting to know you."
I love how she knew most of those guys weren't there to discuss her filmography and had the good sense to wear a nice tight sweater in that second shot.
Good for her.
h/t Guidons, Guidons, Guidons!


posted by DrewM. at
04:26 PM
|
Access Comments