« The Deciders: Even If 3Q GDP Is Revised Up To A White-Hot 5% Growth Rate, We Could Still Be In A Recession, Soon If Not Now
|
Main
|
What A Putz. BUMPED »
November 27, 2007
Vid: "Robot Has Soft, Helpful Hands To Assist The Disabled"
And lonely men, I'm thinking. The RPMs and foot-pounds those soft hands can generate in full mechanical masturbatory fury...
I'll be in my bunk. With my sadly inadequate organic meat-paddles.
I haven't been this turned on since I noticed the Robot from Lost in Space had, in fact, an actual package: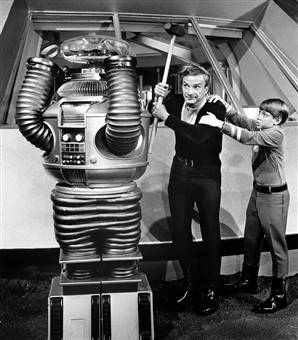 ...which made his Sub-Dom homoerotic relationship with Dr. Smith even more exquisitely tantalizing.
Danger, Will Robinson. My sensors are detecting teh hotness.
Thanks to Dan Collins.
Related: Boston Mulls Spanking Ban: Damnit, what am I going to tell my girlfriends and/or robots? (But I repeat myself.)
Just a request made of a legislator now, but Boston loves banning stuff.
This Guy could give robots a run for their money, at least in spanking area. Fourteen spanks, or rather "claps," per second, he claims. Guinness record.
Gee, with a talent like that, I'm surprised he's reduced to just giving away money by posting free online videos.

posted by Ace at
05:14 PM
|
Access Comments