ę Get Happy!!!
|
Main
|
Philly Police Chief Looking For A Few Good Men Ľ
September 14, 2007
Rudy v. Moveon.org and The NY Times
As Ace blogged about yesterday Rudy Giuliani demanded that the NY Times provide him with the same ad rate that Moveon.org received for their disgusting General Betray Us ad. You can see Rudy's ad after the jump.
I hope the Republicans take this fighting stance at all levels next year. While 2008 is a long way away in political terms, the trends are troubling and not just in the Presidential race.
In the Senate John Warnerís retirement in Virginia has opened the door for popular Democratic ex-Governor Mark Warner (no relation) to get in the race. Now in New Hampshire another Democratic ex Governor, Jeanne Shaheen is running against incumbent Republican John Sununu. 5 years ago, Sununu defeated Shaheen by 4 points but the once solidly Republican Granite State has become an increasingly purple state.
While I am not all about the doom and gloom at this point, I am concerned, as I think all Republicans are. Obviously the best hope Republicans have is significant progress in Iraq but thatís out of their control. I hope more of them take the Rudy route and go on the offensive against those who have become some invested in our defeat in Iraq.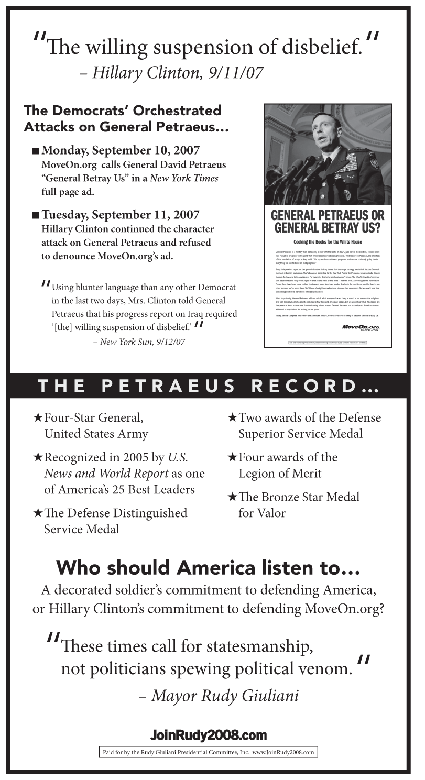 posted by DrewM. at
11:21 AM
|
Access Comments