« Queered Science: Researcher Harassed And Slandered For Politically Incorrect Theory About "Transgendered" Persons
|
Main
|
Good News: Scientists On Verge of Creating Artificial Life Which Will Solve Most Of World's Problems, Including, Inevitably, the Problem of Human Existence »
August 21, 2007
FBI Puts Out Bulletin To ID Men Suspected Of "Probing" WA Ferry Security; Seattle P-I Refuses To Run Picture
What a surprise on that last bit.
If you're in Washington, look out for these good ol' boys. They may be up to no good, and not the funny kind of no good like them Duke Boys.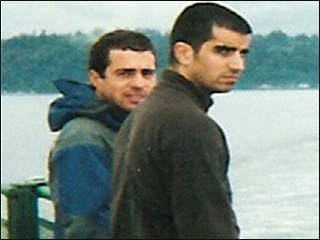 Of course they also might just be guys particularly interested in videotaping ferries, but the FBI would still like to ask them about that.
Groups of men, including one tied to a federal terrorism investigation, have videotaped Washington ferry operations, prompting federal authorities to conclude the system has been under surveillance as a possible target for an attack.

U.S. Attorney John McKay, officials in the U.S. Coast Guard and other members of Seattle's Joint Terrorism Task Force all share in that conclusion.

"We may well be the target of preoperational terrorist planning," McKay said.
Go to Michelle's link to read the Seattle P-I's excuse for not running the photo. Remember, these are the people who favor a law enforcement approach to fighting terror, and are very, very upset when government officials aren't able to "connect the dots" in order to anticipate an attack.
Once again I note I have contacted the FBI about them creating a simple bit of code that would rotate pictures of men wanted in terror probes or fugitives generally, so that thousands of willing blogs could post a constantly-viewed electronic post office wanted wall.
They'll get back to me, apparently.
Do these nitwits realize that blogs collectively reach far more people in Washington than the Seattle P-I?

posted by Ace at
02:12 PM
|
Access Comments