« Cause For Hope? Hearings In The House?
|
Main
|
Hutchinson, Webb Amendments Fail »
June 27, 2007
I Guess We Should be Outraged, Or Something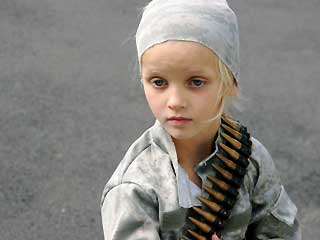 Awww...mommy's little freedom fighter.
O'Donnell defended the image on her blog.

"Art can't hurt u," she said to one person who called her "sick." "Art provokes," she said to another who begged her to take the picture down.

Other reader comments included:

"RO, I AGREE WITH U ON MOSTLY EVERYTHING. BUT SOMEHOW I FOUND THE PICTURE OF VIVI DISTURBING. I DON'T EVEN LET MY CHILDREN PLAY WITH ANYTHING SIMILAR TO THAT. IT'S JUST A COMMENT. BUT OH WELL!!!!!!"
Honestly, I'm less disturbed by the image than I am by the fact that Rosie's fans seem to have adopted her semi-literate writing style.
Still, I would have sold my siblings into slavery to get my hands on a bandoleer full of .50 any caliber bullets when I was a kid, even a fake one. So Rosie giving one to her kid doesn't disturb me. In fact, I think it makes her the best mom ever.
UPDATE - Looks like the picture was taken down, no explanation. Thanks to Cuffy Miegs for having the courage to visit Rosie's blog and discover the change.
Nope, nope...still there. In some sort of flash video thing I didn't watch before.

posted by Slublog at
10:19 AM
|
Access Comments