« Heh Heh
|
Main
|
Dirty Filthy Scummy Scandis »
June 16, 2007
Reuters Responds To Scene-Dressing Fauxtography
Disingenuously, of course (see update). Little Green Footballs of course also gets all up in Reuters' grill.
Photographers from Reuters and other news organizations were at the house taking pictures when one of Haniyeh's sons decided he wanted a picture of his father on the wall, so he put it up in place of the one of Sheikh Yassin, in mid-photo shoot. We did not censor our shots by, for example, only using the pictures with Haniyeh's photo in them, and we can't very well stop people from rearranging their homes as they see fit. Indeed, both of those photos went out, side by side, to our photo clients.
No, Reuters can't stop terrorists from arranging scenes to better serve a propagandist point. It can, however, not run such staged photographs -- a possibility which continues to not occur to Reuters, no matter how many times it happens.
Reuters and AP and the rest of the gang ran all of these absurdly-posed pictures of children's toys set against the backdrop of the Hezbollah-Israel war. These were plainly planted for progandistic effect -- Think of the children who now no longer have their treasured Minnie Mouse doll, due to the evil Jew-bombs! -- and partly, I'd guess, for economic reasons. Word went out that AP and Reuters were just queer for stringers'/freelancers' pictures of toys amidst smoldering ruins, and guess what? When word gets out that someone is willing to pay good money for something, suddenly there's a whole lot more of it being produced.
Of course, once the photo editors grew bored with shots of suspicously dust-free stuffed animals in the wreckage of Jewish bombs, they then explored the possibilities of the Still Life With Tricycle.
Reuters, apparently, takes the position that it can't stop it's foreign stringers and freelancers, many who work in close cooperation with terrorists, either out of solidarity or simple considerations of physical safety, ergo, it must run every single staged photograph they submit.
What choice does it have, after all? To not run such pictures would be to deny the public relevant information staged propaganda which Hezbollah and Hamas want in the Western press. And if the press stands for anything, it's for the proposition that there can be no restrictions whatsoever on staged propaganda which Hezbollah and Hamas want in the Western press.
Absurd, childish, disingenuous, dishonest. What we've come to expect from the MSM, basically.
Still Funny: See-Dub's hilarious "Fauxla."
A Hunkahunka Burnin' Holy Text: I couldn't find this in my own archives (Google hates this site), but did find it at the Jawa Report.
In case anyone was somehow missing the message Hezbollah was putting out about the horrors of the Israeli defensive war against terror missiles, Adnan Haj, King of Fauxtoshops (he photoshopped a picture of Beirut to add in more damage and smoke), submitted this picture to the wires, and of course it went out without question: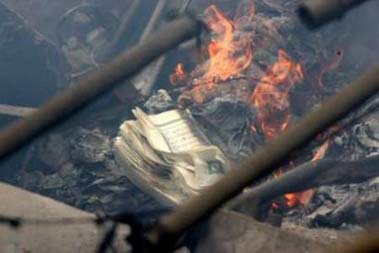 Kind of convenient that they arrived on the scene while the Koran was still burning, but hadn't burned quite enough to be no longer identifiable as the Koran. And of course nothing else is on fire; just the Koran. Those damnably clever Jew-bombs at work again.
Reuters says it can't stop this. I say that's a lie; they could easily stop it.
1. Scrutinize pictures that look "too good to be true." As even liberal-leaning Tim Rutten conceded, if something looks too good, it probably is.
2. Inform photographers that pictures appear to have been staged, either by the photographer himself or by media-controlling terrorists like Hamas and Hezbollah, will not run on the wires, and will not be paid for.
3. Futher inform photographers that submitting a picture later determined to have been staged, even in a small way, without the photographer' express warning of that fact, will result in the agency no longer purchasing any pictures from that photographer at all, forever, as well as the issuance of a warning about the photographer to all other news services to whom he might attempt to peddle his hoaxes.
Did Mohammad Salim warn Reuters the scene was altered mid-shoot? Well, if he did, then Reuters itself concealed that fact from the world. But I suspect he didn't -- he just made up some cock-and-bull story after the fact.
Which Reuters not only regurgitates uncritically, but implicitly vouches for as the truth.
Is it any wonder these stringers keep getting staged photos past Reuters' supposedly vigilant photoeditors? They've announced a policy of Don't Ask, Don't Tell as regards staged propaganda pictures.

posted by Ace at
03:30 PM
|
Access Comments